We Got a Golden Star for Being SWAG-Tastic!
By Dean Schwartz: Hey there! Today's blog post comes with an extra dose of excitement and a little bit of a self-pat on the back – we were recently featured in Advantages Magazine, the premier industry publication promotional products! Pretty cool, right?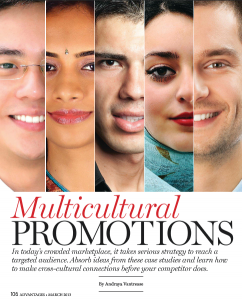 Of course, getting recognized for your work by a major player in the industry is a great feeling, but what we're particularly excited about at SOBO Concepts is the reason why – because of our creative work, our ability to measure the pulse of a multicultural audience (se habla Español!) and our attention to detail. It's what separates us apart; our service, particularly as it relates to our expertise with Latin American and Hispanic audiences. Ever seen our site, Surropa? Check it out here.
Sure, you've probably read the story before or seen the work. In particular, the Advantages Magazine article refers to our work with Miller Lite, both for the 2010 World Cup and for later creating some SWAG-tastic Lucha Libre masks for them, too. But what stuck out to the magazine?
They said our experience with Miller Lite was a lesson to always do your best work, no matter the client, because you never know where a project will lead – or who's watching.
For SOBO Concepts, it meant getting our foot in the door with a major global brand. And what promotional products company wouldn't love that? But we landed there because our work had been seen and admired – and we know it's good stuff, since we put a lot of time and research into it, all with great feedback. We also make sure that our name is synonymous with excellence from top to bottom. And you know what? It worked for us. It continues to work for us. Because we put our customers first through industry-setting service and creativity. Some have one or the other, and we're proud to say that our customers love us because we have both. The fact that we speak Spanish and understand Latin American and Hispanic culture is just icing on the cake.
The article quoted me as saying "One of the most important things is being relevant to consumers. A lot of brands engage in sponsorships and create a useless premium with the co-brand, but don't show fans that they know what their team is all about."
I think that's what makes us different. The recognition is just icing on the cake.
Get in touch with us at 1.888.752.0432!