Create Brand Ambassadors With The Best SWAG To Target College Students
---
By Dean Schwartz (SWAG Master): The college student demographic presents a unique opportunity for businesses to reach potential customers during a formative time in their lives and turn them into brand ambassadors.
For one, college-aged adults are typically more receptive to free products and actively seek out brands that understand their needs, so SWAG that speaks to them can be extra effective. College campuses also provide an environment conducive to creating brand experiences and forming personal connections, making it any marketer's dream. 
Finally, word-of-mouth is powerful among college students, and a well-executed promotional campaign can lead to organic advocacy for your brand. That's priceless.
Luckily, SOBO can help with all of the above. In addition to creating memorable experiences and increasing social engagement, we have options that cover the 3 main needs for any college student SWAG: 1) practical & useful, 2) trendy & fashionable, or 3) eco-friendly & sustainable.
To understand more about the top 5 reasons why your brand should be targeting college students, click here. Or continue reading below for our favorite SWAG options – including our full presentation.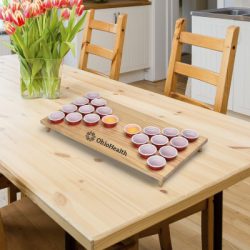 Tabletop Beer Pong Game
Fun for everyone…in the dorm or on the go! Precision cut cup rack securely fastens cups in place. Snug fit prevents mini cups from tipping and spilling of chosen beverageBeautiful hardwood construction. Includes 24 cups and two balls.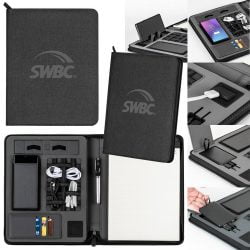 Cambridge Wireless Charging Portfolio
Linen polyester and soft PU wireless charging portfolio with zip closure. Features a removeable UL Listed 5000 mAh powerbank for charging on the go. Interior includes a wireless charging dock/pocket; a pop up USB port for non-wireless charging tech products; 60 sheet lined ivory notepad with date fill-in section; organization panel (phone/tablet stand, elastic webbed accessory storage, card holder); and elastic pen loop. High density polymer battery; USB to micro USB cable included.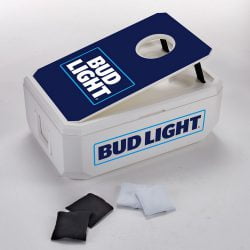 Cornhole Cooler Game
Never play cornhole without a drink in your hand again! Lightweight and portable, yet heavy duty, this cornhole set doubles as a 40-can cooler! The Cornhole Cooler Game is a great branding opportunity, and the bean bags are available in 4 different colors: white, red, blue, black.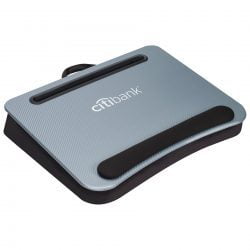 LapGear Smart-E Pro Lap Desk With Memory Foam
This LapGear® Smart-e® Pro Lap Desk is the ideal companion for those who switch back-and-forth between working and entertainment. Prop your 11-Inch tablet into the media slot for hands-free use at an optimal screen viewing angle or use the large work surface for your 17-Inch laptop. This Smart-e® Pro Lap Desk's memory foam lap pad is designed with an anti-tipping shape for comfort and piece of mind in your lap. The foam-padded wrist rest is an ergonomic feature that provides comfort while typing.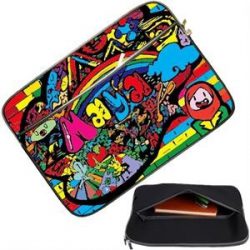 Sublimation Neoprene Laptop Sleeve w/Front Pocket Full Color
Boost your brand with our Sublimation Neoprene Laptop Sleeve w/Front Pocket Full Color. These trendy laptop sleeves are made of soft 2.5 mm flexible, durable Neoprene material and comes in 6 different sizes for all kinds of laptops and tablets. Available in many attractive colors, this fashionable laptop bag also features a padded interior. With a large Edge to Edge Dye Sublimation Imprint, this is perfect for maximum brand exposure. Great ideal for traveling, schools, offices, and tradeshows.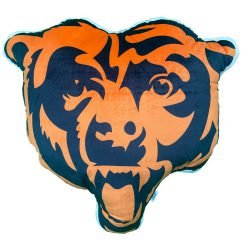 24″ Custom Size & Shape USA Made Pillow Fully Sublimated
In addition to letting you adopt a personalized approach, our large selection of 24″ Custom Size & Shape Sublimation USA Made Pillow Full Color also adds a sumptuous sense thanks to the soft fabric. Many businesses and famous people have utilized our pillows for various purposes. They work well as corporate presents, promotional items, and can even be hot sellers. Speaking of quality, our pillows are constructed from a superior velvet-like polyester that is extraordinarily smooth and silky.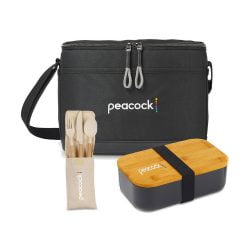 Bring Your Own: The On-the-Go Set
Bring your own meals and snacks on-the-go, wherever you go! The set includes the Goodwin Lunch Cooler in Black, the Satsuma Bento Lunch Box in Black, and the Gaia Bamboo Cutlery Set in Natural. The Satsuma Bento Lunch Box is made of BPA-free materials and has an interior movable divider for organization. The Gaia Bamboo Cutlery Set is a complete fork, knife, and spoon set, is constructed with a bio-composite of bamboo fibers combined with PLA, and includes a reusable cotton travel pouch. The sustainable element is particularly important to college students!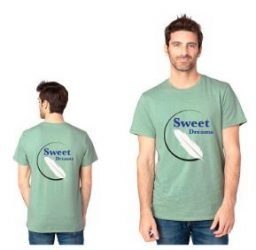 Unisex Ultimate T-Shirt w/RFID
Soft optimal weight 4.8 Oz. T-shirt featuring modern retail fit. It is 15% heavier than most basic 30s tees, making for a more substantial garment. The perfect weight for a fashion tee. Features digitally enabled RFID tags, unlocking endless possibilities for tech savvy marketers and event planners. Compatible with all smart-phone platforms. Additional full back 12″w x 12″h (silkscreen only), and 3.5″ diameter imprint available on left or right sleeve bicep (silkscreen only).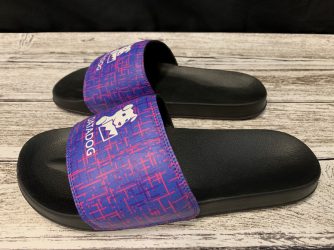 Custom Printed Slide Sandals
Completely custom slide sandals to where around the house, the pool or anywhere!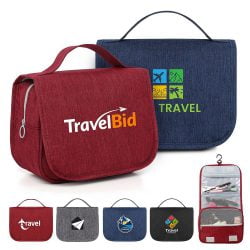 Hanging Travel Toiletry Bag
Made of waterproof 300D heathered polyester material with polyester lining, this hanging toiletry bag can keep all of your travel necessities organized. The main compartments keep your toiletries and cosmetics in place. Built-in handy hook makes your toiletries and cosmetics displayed well for easy access and save space as well. Especially suitable for packing travel toiletries for quick runs to the bathroom!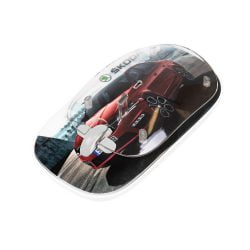 Wireless Computer Mouse
The Zuiki Mouse is a full-functioned, full-color wireless mouse. Display graphics on the entire top surface of the mouse, and enjoy comfortable usage with the ergonomically molded palm rest. Mouse features left and right click buttons, a click button scroll wheel, and adjustable DPI that allows users to adjust mouse sensitivity to their liking. 2.4GHZ wireless dongle stores in the bottom of the mouse for simple and convenient storage while traveling.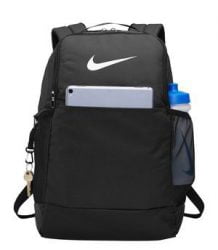 Nike® Brasilia Backpack
Comfortable and versatile, this pack is ideal for hauling everything you need to get through your busy day, when you're away from your locker or home. Two main compartments with zippered closure provide spacious and secure storage. Padded back panel and padded, ergonomically shaped shoulder straps for comfortable carrying. Multiple pockets provide organized small-item storage.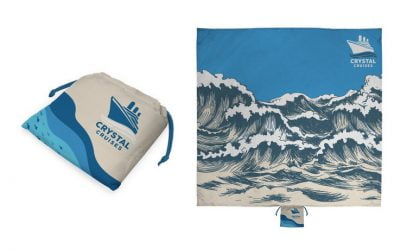 Full Color Pocket Picnic Blanket
Measuring in at 59″ x 59″ and neatly folding into a convenient 7.87″ x 7.87″ pouch, and featuring weighted corners to help it stay put, our Pocket Picnic Blanket makes it fun and easy to enjoy the outdoors! This one-of-a-kind, durable ripstop polyester picnic blanket is 100% customizable with full color printing, including on the pouch, so you can add BIG branding for a long lasting impression.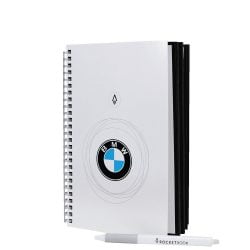 Rocketbook Wave Executive
The Rocketbook Wave provides the freedom of a traditional pen and paper notebook, while allowing you to scan and send your notes to your favorite cloud services. When you use Pilot FriXion pens with the Wave notebook, you can erase your notes using your microwave oven and reuse the notebook (see included instructions on using the microwave).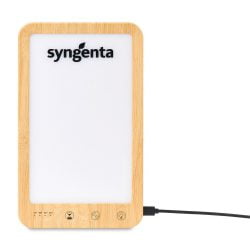 Happy Daylight Desk Lamp
This daylight lamp designed with 3 colors of light (white, natural and warm) will provide you with your daily boost of sunshine and help you keep you energetic and focused. Sunlight regulates the cycles of our bodies and our moods. With people spending more time indoors these days, it's important to make sure our bodies get what they need, and this daylight lamp is here to shine some light for you.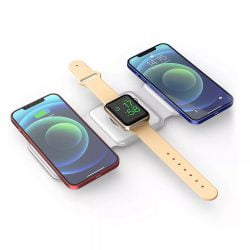 Trio Qi – Stackable 3-In-1 Compact Charger
Trio Qi is a compact 3-in-1 travel charger that offers exceptional portability and charging versatility with its tri-folding design. Featuring a 15W magnetic pad for mobile devices, a 5W pad for Airpod or a 2nd wireless device, and a built-in Apple(R) Watch charger. Showcase your logo via full-color digital print. Each individually packed in premium retail packaging. 
Click here for our full presentation of college SWAG
Targeting college students provides an opportunity to enhance brand visibility, create a positive brand image, establish long-term brand recall, and influence future consumer behavior. So, what are you waiting for?! Click the button below to start targeting college students and take advantage of these brand benefits!