SOBO's Favorite Gift Sets For Every Situation
---
By Dean Schwartz (SWAG Master): Gift sets provide an awesome opportunity to communicate with your audience, and here at SOBO, we excel at conveying the message. We've previously explored the top 5 reasons why gift sets outshine other options (click here to revisit or if you need further persuasion), so today let's delve into some of our preferred choices.
But first, remember: every gift set has its own distinct charm that should align with your target audience's preferences. If you can't find exactly what you're looking for or wish to incorporate personalized packaging or any other creative elements, don't hesitate to get in touch.
At SOBO, we're dedicated to delivering that jaw-dropping "wow" factor for our clients. Crafting these gift sets allows you to shine in a sea of ordinary, and we're experts at making it happen. Our SWAG Experts will work with you to understand your budget, goals, and any messaging you're trying to get across, then curate your selection from there if needed.
Continue below for some of our favorite options, or hit the button for the full presentation.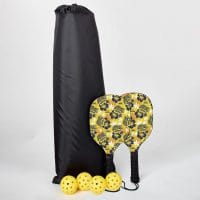 Pickleball Set
Take it to the court – the pickleball court! Our new portable Pickleball Set includes all the essentials for America's fastest growing sport with an easy to set-up 12′ net, steel poles, 2 rackets, and 4 balls—all in a convenient carry case with your choice of logo placement. We can fully print (4cp) on both rackets or two sides of the net. Net printing is one color but more colors are available at additional cost.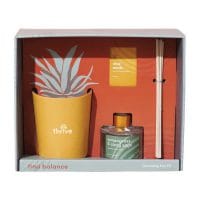 Modern Sprout® Find Balance Take Care Kit – Aloe – Find Balance
Plant care and self care come together in this curated and thoughtful gift set that reminds one to find our balance within our daily grind. This gift set offers a botanical take on traditional gift giving and provides the recipient something to nurture and enjoy. Place your aloe plant on a sunny windowsill and your soothing succulent will begin to sprout.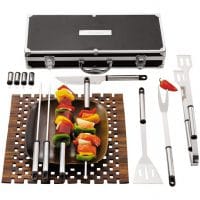 Grill Master Set
This 13-piece BBQ set includes everything needed to be king or queen of the backyard grill – spatula, tongs, knife, fork, four skewers, and four corn holders, all in an aluminum accented case. Handles are plastic with stainless steel grip to prevent heat transfer. For the skewers this allows you to hold the handles and have full control basting food and perfecting the amount of charring you want. Do not expose the handles to direct heat or use in broiler.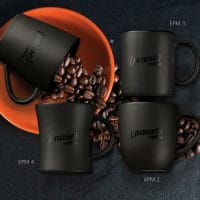 Quartetto Espresso Mug Gift Set
Coffee lovers are becoming more invested than ever before in this specialty brew: It's quality, it's status and of course, it's distinctive cup size. These boxed espresso cups feature a matte black finish, an etched logo on every cup, an elegant high end presentation box with a magnetic closure and printed logo.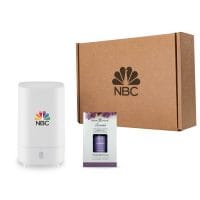 Serene House Relaxation Kit
Personalized and customized gift sets are the ideal gift giving solution for customer appreciation, employee recognition, new hire onboarding and corporate milestones. Gift set includes Serene House Ranger White USB Ultrasonic Aroma Diffuser & Serene House Lavandin Natural Essential Oil 15ml packed in 11″ gift box. The sleek diffuser is great for offices, travel, and dorms. To use, add water and the essential oil of your choice, turn it on, and let the cool mist relax and restore you.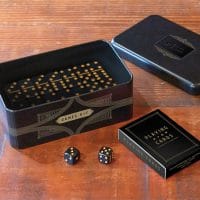 Signature Collection Games Kit
Pass the time with our portable games kit! Included in this customizable gift tin are luxe dominoes, dice, & playing cards. This kit is easy to bring with you on road trips or flights for games night no matter where you are.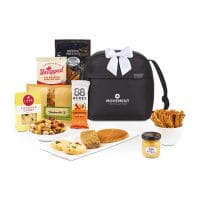 Out To Lunch Gourmet Treats Cooler
This practical cooler comes complete with a delightful assortment of treats inside. Designed using recycled fabric and webbing made from plastic bottles. 9 can capacity. PVC Free Product. Food Net Weight 10.3 oz.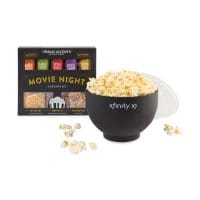 Movie Night Gourmet Popcorn Gift Set
Whether a welcome gift for a new home, a fun team reward for the breakroom, a themed event or a promotional perk, this gift set of non-GMO Project Verified kernels with multiple seasonings is sure to please any craving. Includes W&P(R) Popcorn Popper, Urban Accent Assorted Popcorn Kernels, and Seasonings.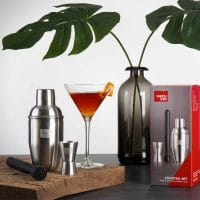 Vacu Vin Cocktail Set of 3
This Cocktail Set contains 3 essential tools to create your favourite cocktails or mixed drinks. The perfect starter-kit of the aspiring cocktail lover! Cocktail Shaker (350 ml) with built-in strainer to mix one drink. Double Jigger (15-30 ml) to measure 1 or 1/2 shot of liquor ingredients. Muddler to smash or muddle fruit and herb ingredients.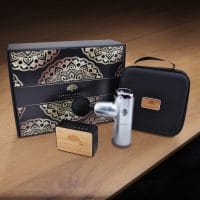 Calm and Relax Gift Kit
The Calm and Relax Cozy Kit comes with our Sound Machine and Massage Gun with Zip Case Packaging. It's a great way to give the gift of self-care and wellness to a team that works hard throughout the year. Includes: #2085Z Massage Gun With Zip Case Packaging and #2061 Sound Machine
Click here to view our full presentation of gift sets
Gift sets are more than just presents – they're a vehicle for meaningful communication with your audience. SOBO's dedication to creating memorable gift sets ensures that your message stands out. Whether you choose from our favorites or opt for a personalized touch, SOBO is your partner in making corporate gifting an impactful experience. Click below to get started!