Celebrate Labor Day With SWAG To Lift Morale And Recognize Loyal Employees
---
By Dean Schwartz (SWAG Master): When it comes to giving props to all of the hardworking employees that support a successful business, there's no better day for it than Labor Day. And the best part? Sending SWAG specifically for this special day brings benefits to your organization both internally and externally.
The holiday first emerged in the 19th century as a result of workers fighting for better working conditions, fair wages, and shorter work hours. So, when we celebrate Labor Day, we're literally celebrating workers. It only makes sense to boost employee morale by rewarding those most important to your bottom-line with some high-quality 21st century SWAG. If your team has worked hard all year with little to no recognition, you can bet they're not going to be working hard much longer. On the other hand, sending the right SWAG to employees can actually strengthen team building and company culture. 
And since it's observed on the first Monday in September, it also marks the unofficial end of the summer season in the United States. People see it as a long weekend to relax, spend quality time with loved ones, and enjoy recreational activities. It's like one last hurrah for outdoor fun before autumn arrives – which means it's also the perfect chance to send something memorable that'll get your brand noticed. Just let our staff know, and we'll find the perfect SWAG for your brands needs. 
Join the fun this year and recognize your employees this Labor Day by sending out unique SWAG. Check out some of our favorites below or click the button for a full presentation. And remember – if you're looking for something with more of a "wow" factor, SOBO has you covered! Reach out at the bottom of the blog to learn more.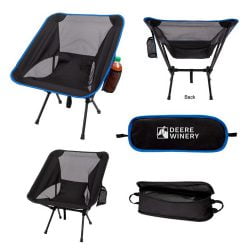 Sycamore Portable Folding Chair
The Sycamore Portable Chair folds down to fit into a compact 14 3/4 x 5 3/4 x 5″ carry bag with handle. Easy to pack and carry, it's the perfect companion for outdoor activities such as hiking, camping, and backpacking. The aluminum shock-cord pole structure allows for an easy, intuitive setup. It has breathable mesh panels to allow for air flow and a side pocket to hold small items or your water bottle. Solidly built, the Sycamore chair can hold weights up to 300 lbs.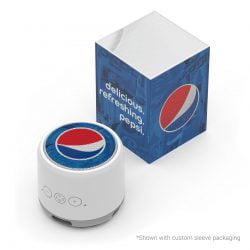 Minuet Mini Portable Bluetooth Speaker
Minuet delivers surprisingly rich audio and punchy bass for its compact size. Enjoy audio with the uncompromising clear sound from this mini Bluetooth® speaker. It gives you more than 6 hours playtime thanks to the built-in 600 mAh rechargeable lithium battery. Pair with a second Minuet to create surround sound. Rechargeable via USB port.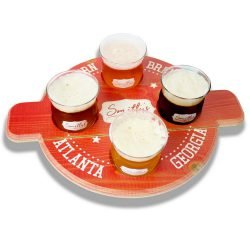 Custom Circular Wood Beverage Flight Tray
Customize our new beer flight tray to match your brand. Logos and message can be added in numerous places and routed to shape. 4 large holes accommodate most beverage flight or taster glassware. Each tray is coated and easily cleaned after usage. Glassware is securely seated in the inner beveled holes to reduce spilled beverage while carrying. 3/8″ thickness.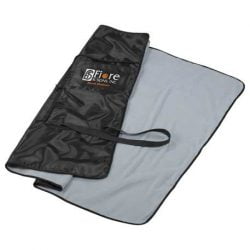 Game Day Stadium Blanket
This perfect blanket can be used as a picnic blanket,seat cushion,or over your lap to keep warm while cheering on the big game. Easily folds into a convenient 13″ x 11″ tote bag with carrying straps and a 12″ x 8.5″ exterior pocket.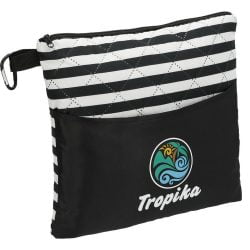 Portable Beach Blanket and Pillow
This 23.5″x58″ rectangular beach blanket folds nicely into a compact pouch for easy storage and contains a carabiner clip for convenient transportation. The external pouch pocket turns into a hidden compartment that can keep valuables hidden in the blanket while enjoying the water! The blanket comes with a 13″x9.5″ pillow which folds up along with the blanket into the zippered pouch.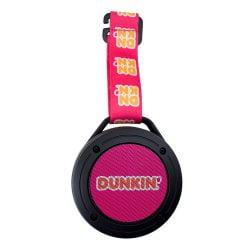 H2O Waterproof Speaker with Custom Strap
If you know of a business team with a youthful spirit and who carries a play-hard attitude and culture, then this stylish and tough waterproof Bluetooth speaker is a great promo option. It has a minimal design that delivers great sound quality to pump you up on your way to the gym or the next big business meeting. It has an IPX4 waterproof rating and comes with a strap.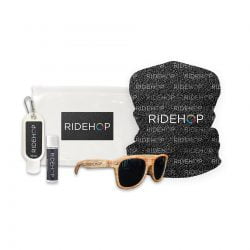 Year Round Active Kit
No matter where you find yourself this all year round, on the Ski slopes of the The Rockies, in a boat off the coast, hiking in the Adirondack Mountains of NY, or laying on a beach in San Diego, The Year Round Kit is a must-have! The Year Round Kit includes the GAITER100, SPF 15 Sunblock, SB106, Sunglasses SG306, SPF 15 Lip Balm CB101 in EVA Bag, all decorated with your logo for one setup fee. Don't get caught outdoors without it!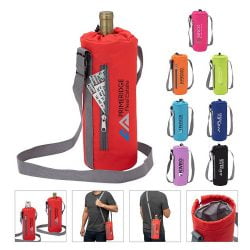 Hydro Sling Bottle Carrier / Cooler
The Hydro Sling Insulated Bottle Carrier has a 1″ x 52 1/4″ adjustable strap that makes it easy to carry crossbody or over your shoulder. The PEVA lining is heat sealed to prevent leaking and you can store small items in the front 6 3/4″ x 4″ zippered pocket (bottle curvature may restrict some pocket space). Perfect for long hikes or sightseeing, use the locking drawstring to ensure a tight closure. Fits standard 24oz./700ml water bottles, wine bottles as well as larger capacity bottles up to 3.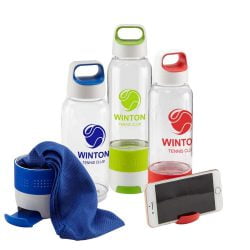 Hydra Chill Water Bottle w/Cooling Towel
Constructed of clear Tritan™ material. Screw-on lid with wide mouth opening. Cooling towel in separate compartment matches accent color. Built-in phone stand for easy viewing.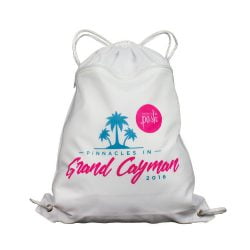 Drawstring Backpack for Towel for Two & Picnic Blanket
Lead the pack with this stylish promoter! Ideal for a towel for two and picnic blankets, this drawstring backpack features a front zipper pocket and drawcord closure. It's made of 210 denier polyester and measures 18.25″H x 15″W. Also great for school, work, tradeshow giveaways and more! Get it customized with your company name and logo in full color imprinting and watch it work hard for your brand long after event has ended! 
Click here for our full Labor Day presentation.
 Make the most of Labor Day by sending out promotional products that celebrate the hard work and dedication of your team. It's a win-win situation that boosts morale, honors workers, and gives everyone a chance to relax and enjoy themselves. Let's make this Labor Day a memorable one! Click below to get started.