Making More Memories on Mother's Day
---
By Dean Schwartz: Creating memorable SWAG for Mother's Day is a task well suited for our SWAG Experts. Not only have we been gifting our mom's incredibly cool SWAG for as long as we can remember, but we've also successfully helped our clients celebrate as well.
Sending flowers and a card every year can become old and is easily forgettable. Don't get lost in the mix this year. If your company is searching for promotional products this Mother's Day, we know what it takes to make that special mom in your life feel important.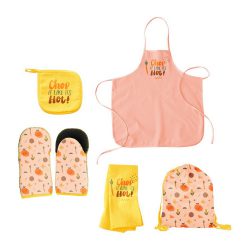 Host with the Most Kit
We all know someone who can host like it's their job! Now you can give them another reason to cook up a storm with the Host with the Most Kit! From the apron to coasters, this kit makes it the ideal gift for the hosting season. Now you can get the party started! This kit includes a Hot Pockets Apron, Oven Mitt, Tipsy Towel, and Hot Pad all packaged in a Ripstop Piggy Back.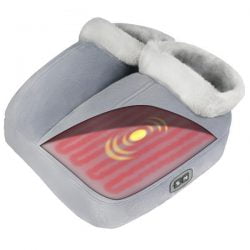 2-in-1 Foot Warmer Massager with Vibration Massage
Treat your feet with this luxury short velvet electric heated foot warmer and massager! Not only will it keep your feet cozy and warm, but it will also give them a gentle and invigorating massage! A great way of rejuvenating tired and aching feet. It comes with control with 2 heat settings and 2 massage settings. There are 2 massage heads on the sole, a large-strength massage, a positive and negative rotation kneading, and a key switch, giving the feet a deep relaxation.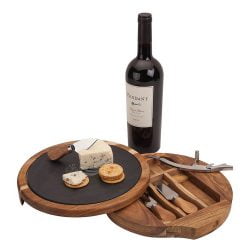 Normandy Cheese/Wine Charcuterie Set
The Normandy cheese and wine charcuterie set is the perfect complement to a night of entertaining with friends. Made of acacia wood, this serving block has a slate cutting top and swivels open to reveal a set of 2 cheese knives, a fork and a 3-function bar tool (with corkscrew, knife and bottle opener), all made of stainless steel. The slate top is removable for easy cleaning. The top can be engraved with a special message to make this a memorable gift for all. FDA compliant.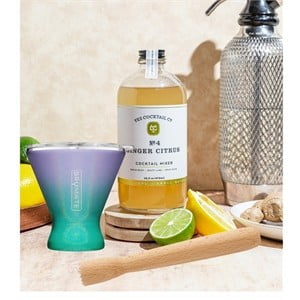 Ginger Citrus Cocktail Mixer Gift Set
This gift set includes: One Brumate Cocktail tumblers (10oz), 1 nice finished wood muddler, and a bottle of Ginger Citrus Cocktail Mixer(12 oz). This Ginger Citrus mixer makes the perfect mule with your favorite spirit and a splash of carbonated water. The tumbler combines the best of both worlds keeping your favorite cocktails ice-cold while on the go. The best solution for preventing dilution and ensuring your mixed drink stays as fresh as the moment it was poured.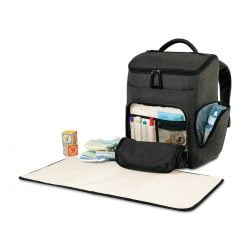 Reagan Diaper Backpack
A functional, versatile, and unisex diaper backpack for parents on the go. Large, zippered opening allowing easy access to the main compartment. Interior features 2 bottle pockets and a large slash pocket for books or a tablet. Interior key fob for securing keys, baby toys and more.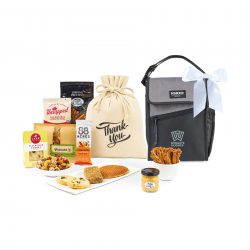 Igloo Avalanche of Artisan Snacks Cooler
This cooler brimming with gourmet treats is the perfect solution for so many occasions we can't pick just one. Whether a welcome swag, a meeting booster , thank you or holiday gift this cooler of treats is a customer favorite. Includes pistachio cherry cookies, dipping pretzels, sweet and tangy mustard, berry nut mix, cinnamon maple nut free bar and a maple waffle to naturally fuel your day all packaged in a reusable drawstring gift bag inside the cooler.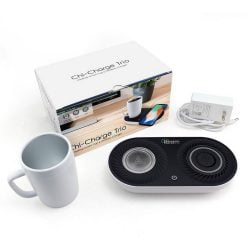 Chi-Charge Trio
The Chi-Charge Trio is one of the smartest desktop companions anyone would love to have at home or office. It helps keep wirelessly charged devices powered up and regulates the temperature of hot and colds. It is easy to use and comes with a mug too.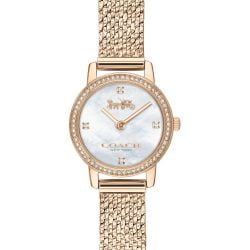 Movado Coach Audrey Gents
A sophisticated minimalist design, the Audrey is a refined watch perfect for day and evening. Finished with a mother of pearl dial and sleek mesh bracelet strap, this carnation gold tone timepiece brightly sparkles with a crystals-encrusted bezel and markers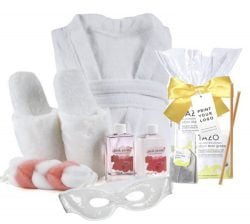 Luxury Robe, Slippers, & Spa Gift
A luxurious bathrobe (size s/m) can be a particularly great addition to your morning or evening shower or simply a soft piece of clothing to wrap up in on a lazy weekend. Packaged with plush slippers (size 6-8) ,Stretchable Loofah Bath Back Scrubber, Shower gel, Body Lotion, eye mask along with tea and honey sticks. Wrapped in cello with bow. Full color card insert and drop shipping services available.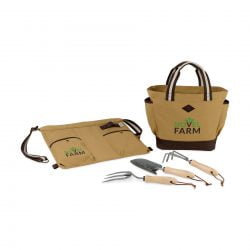 Seed the Future Gardener's Gift Set
This Heritage Supply Gardening Tool Belt, Premium Tool Set and Utility Tote gift is a combination of 3 great quality items suitable for both the experienced gardener to appreciate and the novice gardener to experiment with. Supporting the mental health benefits of gardening will be appreciated each time these items are used.
As always, we're here for all of your mother's day needs. If you don't see something you'd like, click here or the button below to reach out.