Boost Your Brand with Patriotic Promotional Products at Your Summer Cookout
---
By Dean Schwartz (SWAG Master): As we all know, summertime presents a golden opportunity for businesses to increase their brand exposure through public events. And what better event than a casual summer cookout, which is not only ubiquitous but also has the potential to be highly influential?
While hanging with trusted family and friends is always a good time, it becomes more memorable when the party has a great theme. Whether you're celebrating Memorial Day, Fourth of July, or just kicking it with friends in the backyard, incorporating Patriotic promotional products can create an emotional connection with your guests and take your classic American BBQ to the next level.
Stand apart from the competition and other grill masters! From high-tech spins on classic backyard games, to handy grill tools, and everything in between – we have whatever you need for your Patriotic cookout this summer. Check out some of our favorites below or click the button for our full presentation.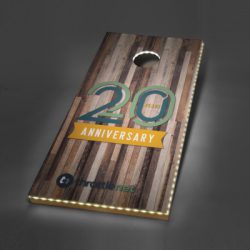 LED Wood Cornhole Game
LED lights around board and hole will make our cornhole game the center of attention. Lights are programmable with red, blue, green, yellow and white LED lights. Official 2′ x 4′ premium grade plywood cornhole game. Solar rear wood legs and regulation 6″ round holes.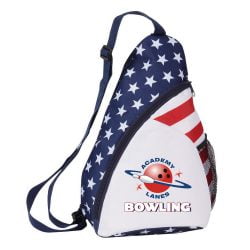 Denier Patriotic Backpack
This is good item to promotes your all-American business, military service, political campaign or other purpose.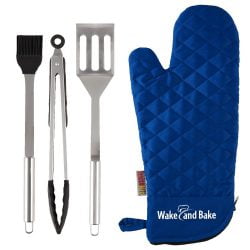 BBQ Grilling Mitt Kit
Kit includes 12″ silicone/stainless steel tongs, silicone/stainless steel basting brush, and stainless spatula. Diamond pattern mitt is constructed of polyester. Features a zipper closure to easily store your essentials. Utensils will always have black accent color.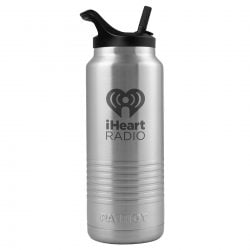 Patriot 36oz Bottle
The Patriot 36oz Stainless Steel Bottle is constructed with the highest quality materials to keep your favorite drink ice cold for hours. In honor of our USA flag, Patriot is designed with 13 stripes in the grip and a 50 star footprint. With every purchase of a Patriot Coolers product a portion of the proceeds are donated to Homes For Our Troops.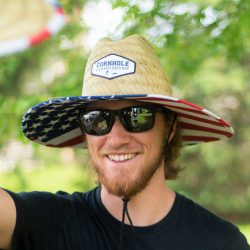 American Flag Straw Hat With Custom Patch
These straw hats are perfect for a summer day in the sun or floating down a lazy river with friends. Spend your fourth of July in a stylish sun shielding straw hat! Subtly show your patriotic side with our American Flag design under the brim. This straw hat includes an adjustable chin cord to fit anyone. This hat comes in 2 sizes, S/M being the most accommodating.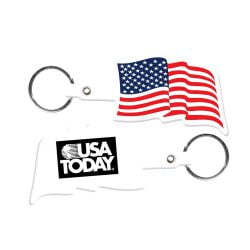 US Flag Flexible Key Tag
30 popular shapes to suit business and promotional themes. Includes 1″ split-ring.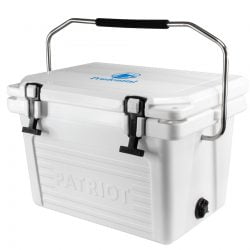 20QT Patriot® Roto-Molded Cooler
The 20qt Patriot Cooler is built for all of your adventures! Whether you're heading out for a day trip to the beach, fishing on the lake, or watching the kids play their favorite sport, the Patriot Cooler keeps food and drinks colder with its extra thick insulated walls. Includes an embossed measuring ruler on the lid for the fishing enthusiasts. Patriot Coolers proudly supports our Veterans. With every purchase a donation is made to Homes For Our Troops.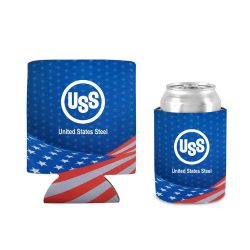 US Flag Design Collapsible Can Cooler
The American stars and Striped 12oz can cooler. (Flag C517S) Your logo will be on full display right above the flag. Perfect for your weekend BBQ or sports meet up. Ideal for any school sports team or community program. Having a 4th of July gathering? This would be a big hit for at any 4th of July event for sure.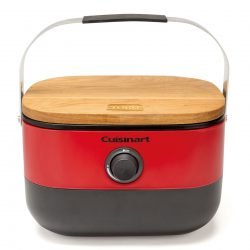 Cuisinart Venture Portable Gas Grill
Calling all adventure seekers! The Cuisinart(R) Venture Portable Gas Grill is a versatile and compact grilling system that makes the perfect outdoor companion. The stack 'n go design allows the grill to go virtually anywhere; from the beach, to a picnic, or on a boat delivering the ultimate social grilling experience. The wooden lid doubles as a chopping board; simply remove the board from the top to prepare your meal or use it for cheese and crackers to enjoy while sipping a glass of wine.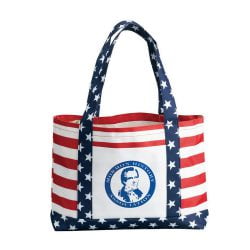 Stars & Stripes Tote
The Stars and Stripes Tote is made of 600 denier poly with PVC. Measuring 18″ x 11.5″ x 3.5″, this bag features comfortable carrying straps so it can be taken on the go with ease. Customize this bag to your specifications with several personalization options for a one of a kind, patriotic product! This useful tote has a front open pocket so you can have easy access to your cell phone, wallet or business cards.
As always, this is just a taste of what's possible. Click here if you didn't see something you'd like. 
Whether you're hosting a backyard BBQ, a company picnic, or any other summer gathering, incorporating red, white, and blue merchandise into your event is a great way to show off your brand's patriotic spirit and engage with guests.
Don't get lost in the shuffle this summer. Stand apart from the competition by creating Patriotic SWAG that your recipients will be happy to sport all season. Click the button below to get started!