SOBO Concepts adds new destination to ANTIQUES ROADSHOW tour
---
We're happy to announce that fans of Antiques Roadshow® have a new place to treasure-hunt – at SOBO store www.antiquesroadshowgear.com. Although the store was recently launched, it's part of an exclusive licensing agreement we inked with Antiques Roadshow a couple of months ago. SOBO Concepts has been looking forward to announcing the news, which happens to coincide with the Miami Beach tour stop, for those of you who live here in South Florida.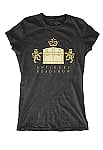 The all-new Fan Wear is sold online at www.antiquesroadshowgear.com, which is also available from a new virtual shop on the Antique's Roadshow website. Fans can shop a selection of t-shirts, soon to be expanded with polos, hats and bags. A portion of every purchase will help support public broadcasting. We're thrilled to help Antiques Roadshow extend its brand in such a personal and visible way, connecting with loyal and passionate fans.
With the exclusive agreement, SOBO Concepts manages everything from creating the online store to designing and manufacturing the products, fulfilling the orders and providing customer service.
For all the details, you can read our news release.