Sending Solo Stove SWAG
---
By Dean Schwartz (SWAG Master): Every year there seems to be a hip new product that companies fall in love with branding around the holidays, and this year we're happy to report that the Solo Stove is actually worth the hype.
If you haven't heard of Solo Stove yet, you better get familiar quick! They're the new "cool kids" on the block when it comes to outdoor SWAG. The stainless steel wood-burning stoves and fire pits are designed with efficient airflow, portability, durability, and adventure in mind.
Oh, and did we mention that we can engrave your company's logo on the front? Talk about a long-lasting impression. Solo Stove also comes in a variety of shapes and sizes, so you can find the right product for your budget.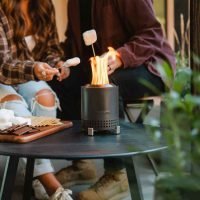 Solo Stove Mesa – Colored
The Solo Stove Mesa tabletop fire pit is constructed of stainless steel and available in multiple color options, making it a stylish addition to any backyard decor. The Solo Stove Mesa is the perfect way to bring the feeling of the great outdoors right into your own backyard!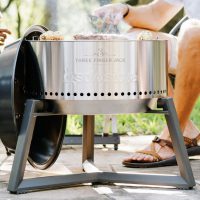 Grill Ultimate Bundle
Grill masters have been stuck behind grills adjusting temperatures, and messing with knobs for too long.Imagine getting the whole family cooking together. It's a no-hassle approach to charcoal grilling that makes everyone a master.Our Signature 360° Airflow Design™ lets you go from box to burger in 30 minutes.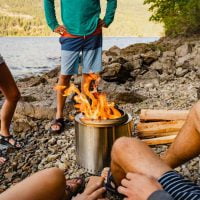 Solo Stove Ranger 2.0
The Solo Stove Ranger harnesses our patented design in a more compact size and travel friendly size. The Ranger sets up and starts quickly allowing you to have a no-trace fire. The double wall design creates a burst of hot air over the fire reducing the smoke. By design, Ranger burns chunk wood or small logs so efficiently you'll only be left with ultra-fine ash making clean up as simple as dumping out the spent ash. Also comes with a durable carry case with handles for easy transport!
Whether searching for the perfect addition to your next camping trip, or just looking to create the perfect atmosphere in your backyard, the Solo Stove has SWAG for you.
Is the Solo Stove right for your company's SWAG? Click below to start planning your winter marketing strategy today. And remember to always #SWAGwithStyle!