Using Sports Themed SWAG To Connect With Audiences And Increase Brand Awareness
---
By Dean Schwartz (SWAG Master): ​​Are you looking for an effective way to boost your company's brand awareness and loyalty? Consider using sports-themed SWAG!
One of the biggest advantages of using sports-themed swag is that it appeals to a wide audience. Sports are a universal language that transcends age, gender, race, and ethnicity. By using sports-related imagery and messaging in your SWAG, you can connect with a diverse range of customers and potential clients. Whether you're targeting die-hard sports fans or casual enthusiasts, promotional products centered around sports can help you create a sense of community and belonging within the recipient.
Plus, whenever someone receives a branded sports item, they're more likely to associate your company with positive emotions such as excitement, passion, and enthusiasm. This emotional connection can lead to increased brand loyalty and a higher likelihood of repeat business.
Check out a few of our favorite sports-themed options below or click the button for our full presentation.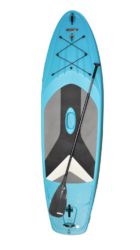 Lifetime 10′ Stand Up Paddleboard
This stand-up paddleboard made from UV-protected HDPE measures 120 inches by 34 inches and can hold up to 230 lbs. It is easy to transport with a molded center carry handle and rear handle. The board includes EVA deck covering for increased traction and a retractable fin for surf or flat water paddling. The front features a bungee for accessible storage and an integrated 1/4 in.-20 universal mount for waterproof accessories. Decals are applied to the left and Right front sides.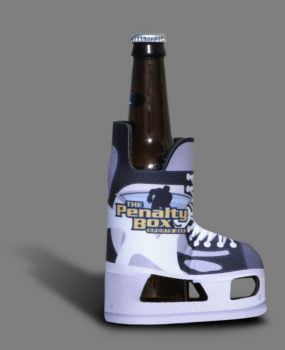 12oz Hockey Skate Bottle Hugger
Custom shaped hockey skate bottle hugger beverage insulator made of polyester foam. Cheer on your favorite hockey team!! Keeps your beverage cool to the last drop. These colorful advertising mediums offer imprints on both sides at one low price and set up. Create your own background or select from our wide selection of stock backgrounds. Made in America and NO DIE CHARGES!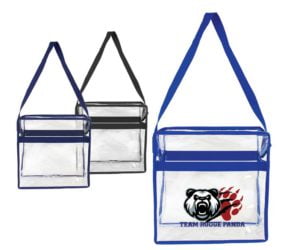 Gameday Crossbody Stadium Bag
Clear zipper stadium messenger style tote; This bag complies with the new NFL & PGA security bag requirements; Perfect size for any sporting event and outdoor outings. 1″ wide x 46″ strap. Material: Clear PVC ( 0.2MM ) Price includes 1 color 1 location.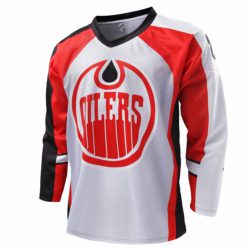 Hockey Jersey
This top-selling top in a boldly striking style is ready for you to fully customize to your specifications. With the embroidered label in front and detail on the back, this jersey is a must-have.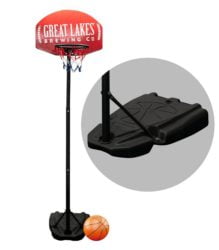 Basketball Hoop
Cure office boredom or create awesome themed displays with this Basketball Hoop. Features a full color decoration on the backboard for maximum brand exposure and a 12″ diameter hoop. The black steel poles can be adjusted to a max rim height of 76″ and the hollow base can be filled with sand or water for added stability. Includes basketball so you can get right to the game!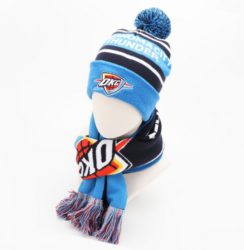 Knitted Beanie and Scarves Set
This hat and scarf set is made from acrylic fabric. We put it together as a set. The size of scarf is 7″ x 57″, and the hat size is 7.87″ x 7.87″, which fit for most adult use. During cold weathers, this is a MUST for your daily life. We can custom the decoration on the beanie and scarf to meet your unique request, even the scarf size can also be customized. This sets offers a good brand exposure for people around.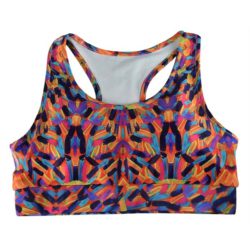 Sports Bra
This moisture-wicking sports bra allows for support while you live an active life. Made with durable polyester for a comfortable fit. Full sublimation options allow for a customized piece at your next sporting event.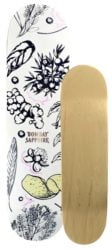 Premium Usa Made Skateboard Deck
Nothing says American summer fun like a skateboard deck. Custom Skateboard Decks are constructed of 7ply 100% Canadian Maple for added strength and pop. With full color graphics on the bottom, your promotion will shred the competition with its sharp detail for an incredible and memorable giveaway.7 layers of Canadian maple are pressed without heat, using glue instead of epoxy resins. This method creates a different board feel and ensures durability and resistance to warping.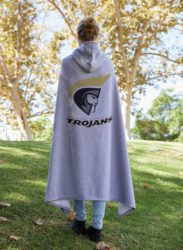 Sweatshirt Sport Hoodie
We have taken our favorite sweatshirt blanket and transformed it into the ultimate gameday accessory that you can now wear and wrap up in. It has 1 button at the neckline for easy on and off, plus a convenient hood to help cover you up in cool weather. 50 x 60, 50% cotton/50% polyester.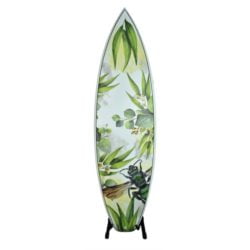 Custom Surfboard
A fully customizable and functional surfboard is perfect for prizes, raffles, or gifts with a beach or ocean themed event. Each surfboard is built with 2 layer top sheets of fiberglass and one layer bottom sheet of fiberglass for durability and performance, a Fusion 3 fin system, and a leash plug. Full color custom graphic tops and a full color logo on the bottom of the board is standard. All boards are available in various sizes and dimensions. Display only boards are also available.
As always, we can create just about anything you dream up. If you don't see what you're looking for in the full presentation link above, click here to give us a shout.
Sports-themed swag is a powerful way to promote your brand, increase customer engagement, and reach a wider audience. By appealing to the universal language of sports, you can create a sense of community and belonging among customers and clients. Differentiate your brand from competitors and create a memorable impression on customers by taking advantage of this unique and effective marketing tool!