Send Spring SWAG To Help Your Business Blossom
---
By Dean Schwartz (SWAG Master): Spring is a season of growth and renewal, making it the perfect time to refresh your marketing strategy.  Take advantage of the warming weather and people's renewed positivity by sending them a "thank you" gift for the season.
Sending out promotional products during the spring can have a significant impact on your brand awareness, customer loyalty, and EOY revenue. The real key is finding the right fit for your audience and effectively delivering a memorable product.
Spring Promotional Product Ideas
Outdoor and Fitness Products: Spring is a season of outdoor activities, so promotional products that are useful for these activities can be a great choice. Examples include water bottles, sunscreen, sunglasses, hats, and sports equipment.
Eco-Friendly Products: With Earth Day during the season, and as more and more people become environmentally conscious, eco-friendly promotional products can be a great way to show that your business cares about the planet. Examples include reusable bags, eco-friendly water bottles, and plantable seed paper.
Travel Products: Spring is a popular time for travel, so promotional products that are useful for travel can be a great choice. Examples include luggage tags, passport holders, travel pillows, and toiletry bags.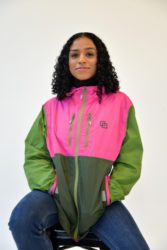 Windbreaker Jacket
Lightweight and windproof for grab-n-go convenience. Water resistant and highly compressible making it the perfect warm weather piece. Fully-Customize this perfect lightweight, versatile jacket with colors that bring your clients brand to life, logo placements that they desire, and features that serve up the performance they want to deliver. Fully customizable with an array of 19 fabric/zipper colors, no MOQ and quick delivery including shipping via air.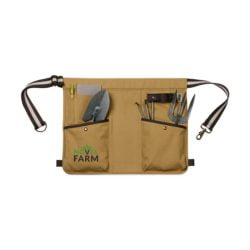 Live Green Gardeners Gift Set
A gardening gift designed to help one nurture their garden. This Heritage Supply Gardening Tool Belt, Premium Tool Set and Utility Tote gift and Modern Sprout Tree promotes being outdoors, living green and supports a mission to help reforest the future. For every kit purchased, a donation is made to plant a tree. For the gardener on the move, this is perfect for storing everything you need while caring for plants.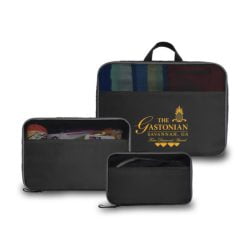 Jetsetter 3 Piece Packing Cube Set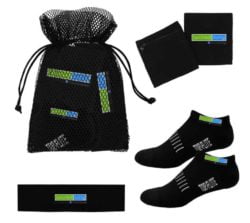 Spring/Summer Performance Kits w/Band, Socks & Headband
Includes 1 pair of Top Flite no show cushion socks decorated with a 1/2″ x 2″ applique on each sock, a performance headband, and a 3 in 1 band with zipper pocket each decorated with a 1 1/2″ x 1 1/2″ applique using the same design on all pieces. Items come packaged in a 6″ x 9″ cross mesh bag in YOUR CHOICE of Black or White.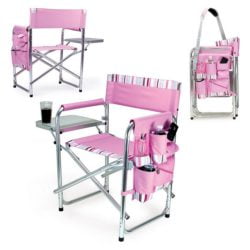 Sports Chair – Folding Chair w/Fold Out Table, Side Pockets, Drink Holders
Folding chair with fold-out side table, side pockets, and insulated drink holders. Features 19.5″ wide seat and detachable shoulder strap. Made of aluminum and polyester canvas. Weight capacity, 300 lbs. Available in a wide variety of colors and patterns.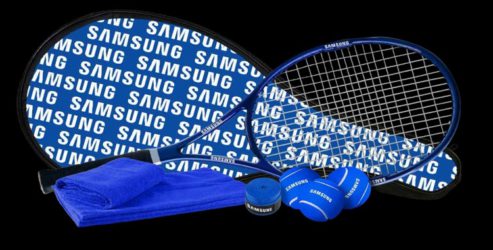 Custom Tennis Set
This package has it all for the tennis enthusiast. This set includes a tennis racket, tennis balls, racket case, microfiber towel, and sports tape. Customize to your desire!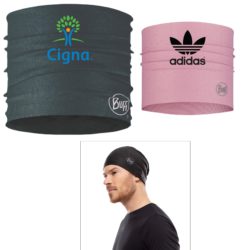 Buff® Coolnet Uv+ Multifuntional Headband
BUFF® CoolNet UV+® Multifunctional Headband is half the length of the CoolNet UV+® Multifunctional Headwear and offers style and sun protection without weighing you down. The CoolNet UV+® Multifunctional Headband is 95% recycled – engineered with REPREVE® performance microfiber, HeiQ cooling technology, Polygiene® odor control and has a 4-Way, seamless, ULTRA STRETCH fabric construction and block UV rays on covered areas to make outdoor sports more enjoyable. 95% recycled REPREVE® performance.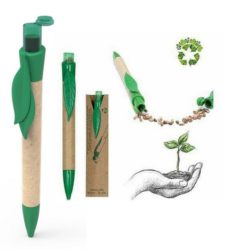 Seed Pens
Our Unique Plant in a Pen, Seed Pens are perfect way to give back to Nature. Love, Hope, Money Grows! Great Way For Go Green and Sustainability. Except for the blue non-toxic ink refill, this green pen is made from corn, a revolutionary new material derived from cornstarch. Top Container Push Pen contains Seeds; Basil, Sage, Coriander, Thyme, Parsley, Cherry Tomato, Pine Tree, Wild Flowers
As always, we can create just about anything you dream up. If you don't see what you're looking for in the full presentation link above, click here to give us a shout.
Start planning your spring promotional campaign today and watch your business blossom! Click the button below to get started.