Boost Your Brand Image with Stanley Promotional Products
---
By Dean Schwartz (SWAG Master): Stanley products (and particularly their drinkware) are on fire right now. It seems they're everywhere from your local beach to viral TikToks and everywhere in between. But have you ever wondered what truly sets Stanley products apart from the rest?
Stanley has been wowing customers with their superior quality and durability for over a century, and since SOBO has worked with this company in the past, we've gained valuable intel as to why.
First, when it comes to durability, Stanley products are in a league of their own. They're built to withstand the toughest conditions and keep performing day in and day out. Whether it's their vacuum-insulated drinkware or rugged coolers, you can count on Stanley to deliver products that go the extra mile. By paying attention to the materials they use, Stanley ensures that their products are built to last. It's all about longevity and reliability with Stanley.
Second, in addition to constantly innovating existing products, they're also offering a wide range of new SWAG that caters to different needs and preferences. From drinkware and coolers to tools and outdoor gear, there's something for everyone. With such a diverse selection, you can find the perfect fit for your promotional campaigns and target audience.
And here's a bonus perk: the Stanley brand has become synonymous with quality and reliability over the years, so associating your brand with theirs can work wonders for how customers perceive your business! It's truly a win-win situation, so what are you waiting for? Check out some of our favorite options below or click the button for a full presentation.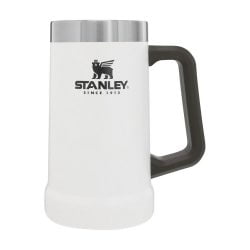 Stanley Drinkware Adventure Big Grip Beer Stein, 24oz
Oktoberfest isn't just a celebration—it's a state of mind. Raise a glass to fun with this durable stainless steel beer vessel. It's big enough to hold two cans of beer and keep them cold from the minute you pour to the moment you finish your last sip. A heavy-duty handle lets you keep a firm and steady grip on your drink.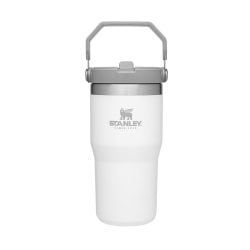 Stanley Drinkware IceFlow Flip Straw Tumbler, 20oz
Hit the road to adventure or a high-intensity spin class at home. This tumbler ensures that you always have crisp, cold hydration in hand. The ergonomic shape and built-in flip straw mean you can sip easily and effortlessly. It snaps tight to stay fully leakproof. Stanley's double-wall vacuum insulation keeps your drinks icy cold and a rotating handle makes it easy to take anywhere.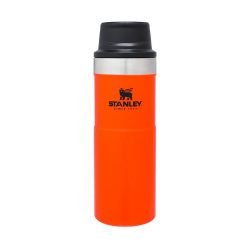 Stanley Drinkware Classic Trigger Action Travel Mug, 16oz
This go-anywhere, stainless-steel mug—in your choice of signature Mossy Oak® or Blaze Orange finishes—is made for the outdoors. Fill 'er up with your favorite beverage, press the button for one-handed drinking, then release.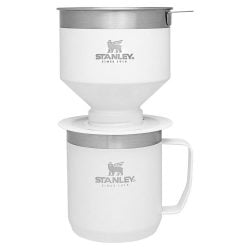 Stanley Drinkware Classic Perfect-Brew Pour Over Set
This stainless-steel coffee maker includes a stainless-steel filter and a matching Camp Mug for brewing the perfect cup. No paper filters needed, thus providing your loved ones with sustainable coffee-brewing gear!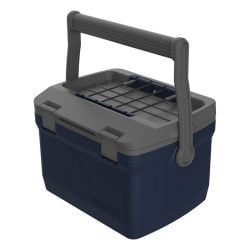 Stanley Drinkware Easy Carry Outdoor Cooler, 7qt
This beefy boy holds all the goodies — and keeps them cold for 27 hours, nearly 40 percent longer than your typical cooler. Foam Insulated lid + body. Leak-resistant gasket. Rugged latches and handle. Adjustable tie down. BPA-free. Available in Green, Polar and Flannel Red.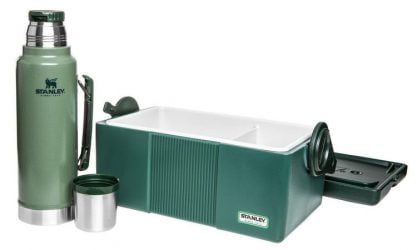 Stanley PMI Green Heritage Cooler + Bottle Set
The cooler can stay cold for 16 hours and features double-wall foam and a reversible lid that doubles as lunch tray. Has large separated compartments, locking handle holds and a 1.5 Qt. bottle.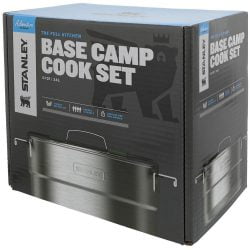 Stanley Drinkware Full Kitchen Base Camp Cook Set – 4x
This set includes: 3.7 qt. pot with vented lid, 3-ply 7.25 in. frying pan, durable 18/8 stainless steel, 6 in. plates, 22 fl. Oz. bowls, cutting board, extendable spatula, extendable serving spoon, sporks and drying rack. It's BPA-free, dishwasher-safe plastic. Frying pan handle folds out and locks. Entire cook set nests. Vented lid is marked with optimal stacking order.
Choosing Stanley for your promotional campaigns means providing recipients with a higher perceived value and leaving a lasting impression.  With a solid reputation for reliability and innovation, customers know when you choose Stanley, you're choosing a brand that exudes confidence and trust. Align your brand with Stanley products today by clicking below to get started!