Creating Sustainable Promotional Products for Earth Day and Beyond
---
By Dean Schwartz (SWAG Master): Does your company order eco-friendly or sustainable promotional products? If not, there's no time like the present! Especially with the upcoming celebration of sustainable products and going green in general. That's right, Earth Day is around the corner.
Earth Day is an annual event that has gained global significance since its inception in 1970 by promoting environmental awareness and encouraging sustainable practices. Businesses often use this event to showcase their commitment to the environment by creating and promoting sustainable promotional products that send positive messages to customers about their corporate social responsibility. Don't miss out on another opportunity this year!
Continue reading below for some of our favorite options for this year's Earth Day – as well as our full presentation.
How Sustainable Products Can Impact Your Business
They align with consumer values: Consumers are increasingly concerned about the environment and want to support businesses that share their values. By using sustainable promotional products, businesses can show that they care about the environment and are taking steps to reduce their impact.
They promote a positive brand image: Using sustainable promotional products can improve a business's reputation and brand image. It shows that the business is committed to sustainability and is taking action to protect the planet.
They have a longer lifespan: Sustainable promotional products are often made from durable materials that can last for a long time. This means that they will continue to promote a business's brand long after the initial marketing campaign has ended.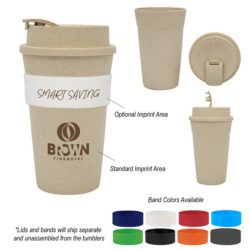 16 Oz. Harvest Travel Tumbler
Eliminates The Use Of Disposable Plastic Cups and Bottles. Small Amounts Of Plant-Based Material Are Used To Create A Flecked Finish . No Indication Of Extractable Gluten In Testing. Choose Your Own Color Combination. Screw-On, Spill-Resistant Sip Through Lid . Silicone Band For Easy Comfort Grip. Meets FDA Requirements . BPA Free . Hand Wash Recommended.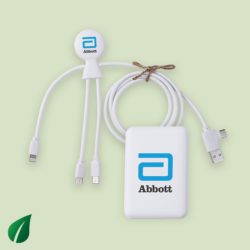 Eco-Pack: Sustainably made charger and cable set
The EcoPack features sustainably made 5000 mAh power bank and "Thomas" eco-cable. Incorporating materials made with bio-degradable plastic, recycled housing, and each packed recyclable kraft packaging. Promote your brand with full-color digital print.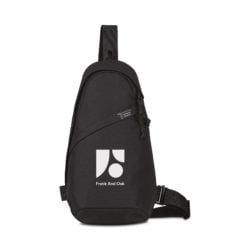 Renew rPET Sling Bag
A modern and sustainable update to a classic sling bag using recycled fabric and webbing made from plastic bottles. Front zippered pocket for storing accessories. Dual zippered opening to large main compartment. Adjustable, ambidextrous shoulder strap for customized wearing. This product is kid-friendly/CPSIA compliant.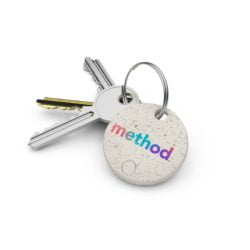 EcoSpot: Eco-Friendly Bluetooth key finder
An environmentally friendly product with a tech side, the EcoSpot Bluetooth tracker! Made from a blend of post consumer recycled ABS plastic & biobased materials like wheat straw, EcoSpot uses significantly less new plastic than the original. Attach EcoSpot to an important item, like keys, it then pair it to the free Spot app from your phone. The app helps find the EcoSpot and the item it's connected to.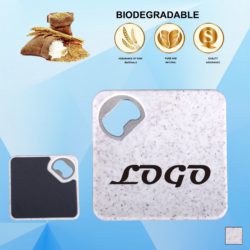 Biodegradable Coaster w/ Bottle Opener
Solid biodegradable material for the coaster with bottle opener. Easy to clean, safe to use, great for restaurant or bar, smooth surface. A very handy tool if you're always on the go. Environmentally friendly material, wheat straw plant fiber material, degradable. Imprint this with your company name or logo and maintain a great relationship with your current customers as you reach for those who are newer!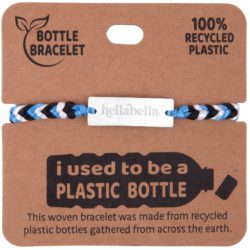 Be Brave Eco Bracelet
This bracelet is made from recycled water bottles from around the world. Each color represents a different environmental theme: Black represents the color of waste and carbon dioxide; white represents the color of recycling, purity and cleanliness; blue represents the color of our skies and the seas. The card made from recycled paper is included in the price.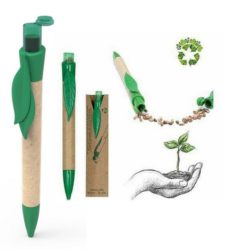 Seed Pens
Our Unique Plant in a Pen, Seed Pens are perfect way to give back to Nature. Love, Hope, Money Grows! Great Way For Go Green and Sustainability. Except for the blue non-toxic ink refill, this green pen is made from corn, a revolutionary new material derived from cornstarch. Top Container Push Pen contains Seeds; Basil, Sage, Coriander, Thyme, Parsley, Cherry Tomato, Pine Tree, Wild Flowers
As always, we can create just about anything you dream up. If you don't see what you're looking for in the full presentation link above, click here to give us a shout.
By participating in Earth Day promotions and creating sustainable promotional products, businesses demonstrate their commitment to sustainability and attract customers who share their values. These products not only promote brand recognition and loyalty, but also demonstrate a commitment to corporate social responsibility. So, what are you waiting for? Click the button below to get started on your eco-friendly SWAG today!