How To Swing For The Fences With Baseball Themed SWAG
---
By Dean Schwartz (SWAG Master): Baseball is a beloved pastime in the US and Latin America, and an enormously popular sport worldwide. With its strong cultural significance and wide appeal, baseball is a great theme for promotional products that can help businesses of all kinds boost their brand recognition and loyalty.
By giving away products that align with your customers' interests and hobbies, you're showing you understand and care about them on a more personal level than most other businesses, leading to increased customer loyalty and much a deeper connection with your brand. Your business is also demonstrating a commitment to the community when you partner with local teams or sponsor a baseball-related event- which will help build a positive reputation for your brand and further increase brand loyalty among local customers.
Don't know where to start? Let SOBO's SWAG Experts guide you to the best options for your company's specific situation. Check out some of our favorite baseball-related SWAG below or click the button for our full presentation.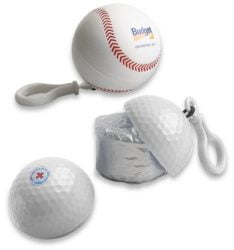 Sport Poncho Keychain
One size fits all, transparent hooded adult poncho in convenient novelty compact container with keychain. Available in baseball (KH145B) or golfball (KH145G) container.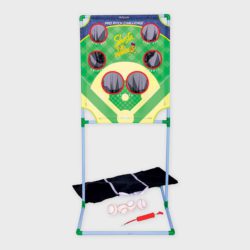 Pro Pitch Baseball Challenge
Step up to the Pro Pitch Baseball Challenge! Perfect for tailgating, the backyard, or even the beach, this new and exclusive game is easy to assemble and perfectly portable with the carry bag provided. Comes complete with 4 inflatable baseballs, 1 ball pump, and a portable carry case.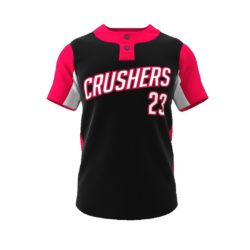 Phenom 2-Button Short Sleeve Jersey
This is an Elite/Pro-Level jersey, that's short sleeve with a 2-button profile. Also available in full button. It has 4-way stretch woven fabric for style/durability, and 4-way stretch spandex mesh for added breathability. There's excellent range of motion, and it's comfortable and pick resistant. Also makes a great corporate event, team building or staff shirt. Custom designed and made to order.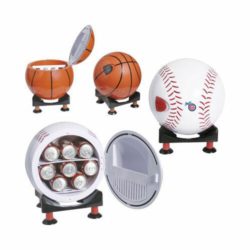 Sport Ball Design Mini Refrigerator & Warmer w/Multi-Angle Base
Take tailgating to a new level with our Sport Ball Design mini refrigerators & warmers. Available in your choice of a baseball or basketball design, each allows for cooling to 40 F below ambient temperature, and warming is thermostatically controlled up to 149 F for foods and beverages. 6.5 liter capacity permits storage for up to 8 beverage cans. Removable shelf acts to separate food from beverages. Convenient table top stand permits units to be opened from the front, top, or 45 degree angle.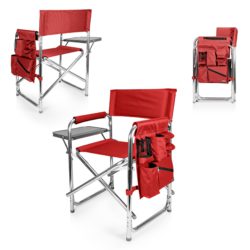 Folding Chair w/Table, Side Pockets & Drink Holders
Folding chair with fold-out side table, side pockets, and insulated drink holders. Features 19.5″ wide seat and detachable shoulder strap. Made of aluminum and polyester canvas. Weight capacity, 300 lbs. Available in a wide variety of colors and patterns.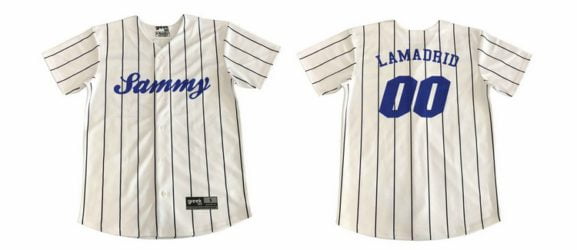 Baseball Jersey with full color imprint all over
This baseball uniform is lightweight, durable, moisture-wicking, and extremely vibrant. It can be fully customized.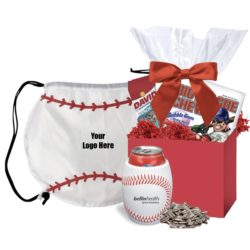 Home Run Baseball Basket
A Home Run Baseball Themed basket, Includes Baseball drawstring bag, baseball can holder, Big League Chew, and Sunflower seeds all nestled inside basket box and tied with a bow. We'll customize a baseball themed promo to fit your budget and event needs. Full color hang tag available, printed with your message, design and logo. Baskets can be shipped bulk or to each individual address on your gift list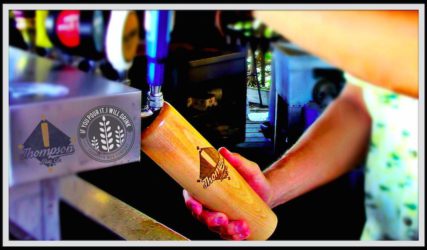 12 Oz. Baseball Bat Drinking Glass
Beautifully laser engraved Baseball Bat Mug which holds 12 ounces of liquid.
As always, we can create just about anything you dream up. If you don't see what you're looking for in the full presentation link above, click here to give us a shout.
Baseball is America's favorite pastime, and it holds a special place in the hearts of many people. Using baseball-related promotional products can help you tap into that passion and connect with your audience in a meaningful way. Whether you're a sports team, restaurant, or retailer, there are endless possibilities for using baseball themed promotional products to take your business to the next level. Click the button below to get started.