Best Tradeshow Giveaway Items
---
By Dean Schwartz (SWAG Master): The tradeshow world can be monotonous so don't bring boring SWAG. Whether you're presenting or visiting, you know what to expect for the most part. Hand-shakes. Shmoozing. Lectures. Aside from the networking and educational aspects, the true highlight of any good tradeshow (and what people will really remember) is the free SWAG.
Every booth worth its salt will have something tangible to hand you – the only problem is that most of the stuff is junk. Sifting through your swag-bag at the end of the day for any creative, usable items can be like searching for a diamond in the rough. Luckily, SOBO has already found all of the diamonds so your company doesn't have to throw money at useless SWAG the next time you need giveaways for a tradeshow.
We've designed everything from booths, to banners, to mini-games and memorable raffles for our clients. The tradeshow world is where SOBO's creativity truly shines.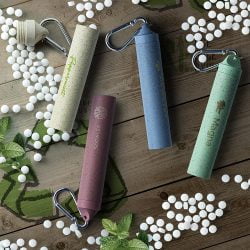 Wheat Keychain with Custom Mints
This year, give something unique and useful at your tradeshow. These mints will freshen breath and leave a long lasting impression due to the creative and eco-friendly wheat packaging. Comes with screw top cap with silver carabiner so you'll never lose your mints in your bag again. Available colors of  wheat container are blue, green, pink and natural.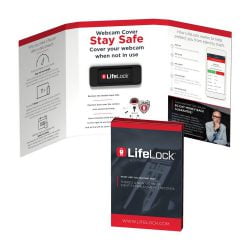 Tek Booklet with Webcam Cover
Perfect giveaway as most people aren't using these, but will want one as soon as they learn about it (also includes plenty of room for company information within the booklet). This ultra-thin webcam cover protects your security and privacy and prevents webcam spying. Fits most smartphones, Smart TV's, webcams, laptops, PCs, and Tablets. The thin sliding disc allows for easy access to the web camera to be open or locks your webcam to prevent those hackers and prying eyes. (Booklet also available with installed Mirrors or tissues)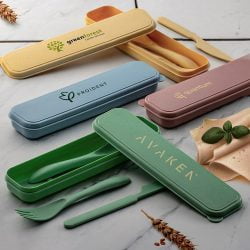 Wheat Straw Cutlery Set
Environmentally friendly products are sure to get people's attention and this product is two-fold: it reduces single-use plastic forks and also utilizes wheat packaging instead of plastic. BPA Free, Dishwasher Safe, this cutlery set will come in handy for those traveling and will not soon be thrown out.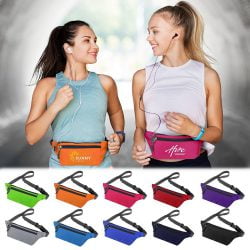 3-Zipper Fanny Pack
Don't call it a comeback! Fanny-packs are all the rage in today's fashion and super-useful while at a tradeshow or traveling anywhere. This fanny pack is made out of waterproof polyester material. It features 3 big pockets, an adjustable running belt, and a headphone jack in front of the bag.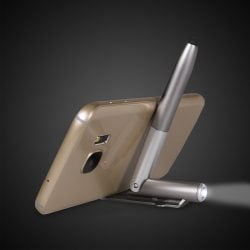 Silver Light Up LED All-in-One Pen
Don't settle for another boring pen – the latest in LED pens does it all! It writes, is a stylus, a flashlight, and now it even holds your phone! Writing is as simple as a twist of the barrel. Retract the black ink pen for easy use of the stylus. Slide the switch up to light a dark spot or write at night by folding the top down. Flip the folded pen on its clip and now it'll easily hold your phone or tablet. Perfect as a tech gift, stocking stuffer, giveaways, prizes, and more!
Tradeshows are about capturing the attention of your audience, and there's no better way to do that than by giving them something they'll enjoy using. If you don't see something you're looking for, just give us a shout! We'll be more than happy to have our team find your company the right SWAG, no matter what.
It's really easy to accept something one minute and then throw it away the next, so when you invest in bad SWAG for your tradeshow booth you're literally throwing money in the trash.