Celebrating Cinco de Mayo With The Right Promotional Products
---
By Dean Schwartz (SWAG Master): Cinco de Mayo SWAG can better connect you with one of the largest demographics in the United States and abroad, but how much do you know about Cinco de Mayo really? Aside from the "fiesta" your company throws every year, of course.
Here's some history: Cinco de Mayo commemorates the Mexican Army's victory over the French Empire at the Battle of Puebla in 1862. While the holiday has historical and cultural significance in Mexico, it's also become widely celebrated as a day of Mexican heritage and pride across all of the Americas. 
This presents a unique opportunity for businesses. Creating SWAG with historical or cultural influence can help create a sense of community among your customers. Your customers will feel like they are part of something bigger, which in turn strengthens their loyalty to your brand.
However, it's important that Cinco de Mayo themed SWAG remain respectful and keep in the spirit of the holiday. SOBO has unique experience in Mexico and Latin America, so you can be sure we understand the cultural significance of the holiday before creating your products. 
Our knowledge of Mexican culture combined with our creativity make us the perfect partners for Cinco de Mayo SWAG. Keep scrolling for some of our favorites or click the link below for our full presentation.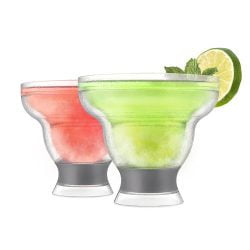 Margarita FREEZE Cooling Cups (set of 2)
Just pop our Margarita FREEZE™ in the freezer, pour your favorite margarita and enjoy! Our proprietary cooling gel freezes solid inside the double-walled chamber, providing thermal insulation that keeps your drink cold for longer.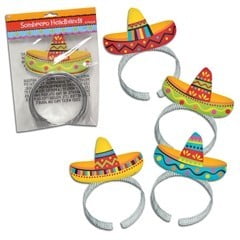 Sombrero Headbands
Now everyone can wear a great looking sombrero at Mexican theme parties! Our cute and one size fits most Sombrero Headbands are perfect for everyone! Each paper and foil Sombrero Headbands can be used at South of the Border theme birthday parties or at Cinco de Mayo celebrations. Each pack of 8 headbands comes with assorted color 5 3/4 inch wide by 3 1/4 inch tall paper sombreros atop silver foil headbands. Assorted colors sombrero with silver headbands. 8 per pack. Priced per headband.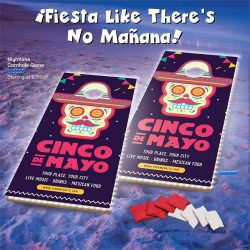 LED Wood Cornhole Game
LED lights around board and hole will make our cornhole game the center of attention. Lights are programmable with red, blue, green, yellow and white LED lights. Official 2′ x 4′ premium grade plywood cornhole game. Solar rear wood legs and regulation 6″ round holes.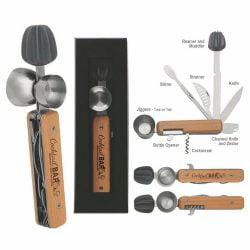 Cocktail Multi Tool
This 10-in-1 multi tool includes a muddler/reamer, channel knife, 1/2oz and 1oz jiggers, zester, knife, stirrer, strainer, corkscrew, and bottle opener. Made with a beechwood handle and stainless steel tools. FDA approved for everyday use in the kitchen or event!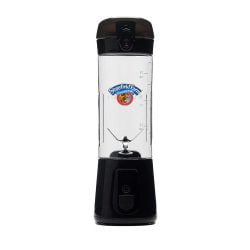 Blendi Pro + Portable Blender
The BLENDi™ Portable Blender is cordless, portable, and powerful. Our 17 oz portable blender is small enough to fit in any bag or purse and can blend a smoothie in seconds! No more clumpy mixes – make protein shakes, salad dressings, ice cold margaritas, and press down the button; instantly creating silky-smooth results every time. Once you're done fully convert it into a functional water bottle that can be easily transported.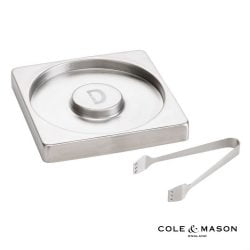 Swissmar Glass Rimmer/Tongs
Swissmar® Glass Rimmer with Tongs features a brushed stainless steel shallow base and garnish tongs. Base can be filled with rimming salt or sugar, or sometimes something to moisten the rim of the glass such as lime juice. A bartender's most essential tool!Product Features:- Elegant & stylish design- 18/8 stainless steel- Polished finishRimmer Size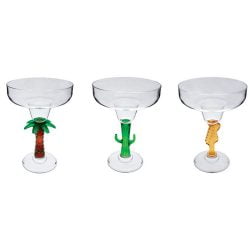 12 Oz. Acrylic Margarita Glass w/ Novelty Stem
Here's a promotion worth toasting to! This margarita glass holds 12 oz. and features a novelty design for the stem. Perfect for luncheons, picnics, and themed parties. Personalize these glasses with your company name and logo to leave a lasting impression. Available in a wide variety of designs. Made out of durable NAS acrylic plastic.
As always, if you don't see something you're looking for – just click here.
With so many businesses vying for customer attention, it's essential to stand out from the competition. Creating unique and creative Cinco de Mayo themed promotional products can help you do just that. By offering something that your competitors are not, you can differentiate yourself and attract new customers. Reach out to SOBO today to start designing your own Cinco de Mayo SWAG.