The Perfect Blend: Creating Promotional Products for Coffee Lovers
---
By Dean Schwartz (SWAG Master): Coffee plays an integral part of many people's lives, and it continues to gain popularity around the world. From morning rituals to social gatherings, coffee plays a significant role in many of our daily routines. For businesses, tapping into the coffee culture presents a unique opportunity to connect with another target audience.
When businesses invest in creating promotional products for specific audiences such as coffee lovers, it shows a level of care and appreciation that resonates in their ROI. Creative coffee SWAG can make it more likely that anybody who drinks coffee will develop a sense of loyalty towards your brand, since you've demonstrated that you understand their preferences and interests.
Not to mention – coffee lovers are often enthusiastic about sharing their favorite coffee-related experiences, including the brands they love, and many are passionate about the artistry. By providing high-quality and unique promotional products, you encourage customers to share their positive experiences with others. Word-of-mouth marketing is a powerful tool, and when coffee enthusiasts endorse your brand, it can lead to organic growth and increased brand recognition.
Selecting the right promotional products is crucial for any successful marketing campaign, though. The key is to offer something that coffee drinkers will find useful, appealing, and memorable. We have just about anything you can dream of in the presentation below, or you can keep scrolling for a taste of what we love.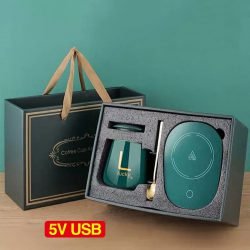 USB Coffee Mug Warmer Set
One mug warmer, one coffee cup 420 ml, one cup cover, one golden spoon. 290 MM X 180 MM X 110 MM packing box, 0.95 kg/box. Do not use the computer USB port to power this.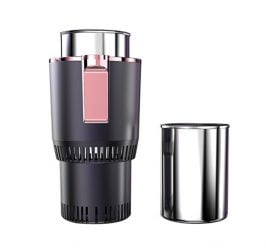 Temperature Control Travel Mug
2 Hour battery life on a single charge. Or keep the Ember Travel Mug on the included charging coaster for all day use. Control with your smartphone. The mini fridge uses semiconductor technology and has a powerful dual system of cooling and heating for easy switching between cooling and heating. Take this fully-insulated cooler/warmer from the house, on your road trip.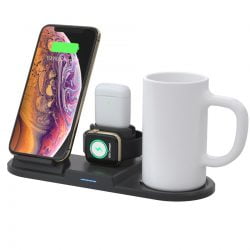 15W Multi-function Wireless Charger with Heating Cup
15W multi-function wireless charger smart thermostatic cup wireless charger,This coffee warmer is used to heat the cup and keep the beverage in the cup at a constant temperature of about 55 degree centigrade / 131 Fahrenheit degree,to maintain a good taste for drinking throughout the day. Note: The configured cup is a special cup and the other cups will not be available.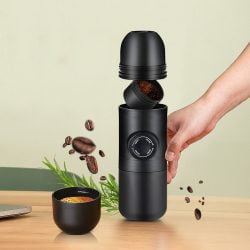 Cafe Jug, Portable Espresso Coffee Maker
Portable espresso coffee maker. No battery/electricity need. Manual operation to a fresh cup of espresso! Compact, lightweight and versatile, you may use your favorite coffee ground/roast, tea or cocoa, which will give you more flexibility in trying new flavors.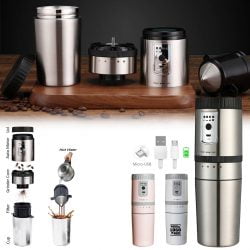 Portable Electric Coffee Maker Grinder With Cup
This automatic coffee grinder is made by food grade stainless steel, which features powerful motor & high grinding efficiency core, battery built in, rechargeable with USB cable. Detachable design contains top motor, middle grinder core, filter and base cup, convenient for cleaning wash. Good gift for office, business trip, home, travel, just one button to make a cup, enjoy the delicious coffee anytime, anywhere.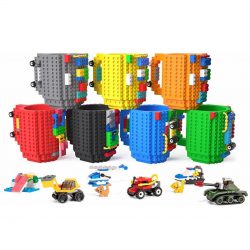 DIY Toy Brick Assembly Mug
The cup is made of food grade ABS plastic and BPA Free, safe to use for juice, tea, coffee and hot chocolate drinks. This novelty coffee mug is compatible with LEGO and most building bricks, only match with the raised dots area of this mug. It is a perfect gift idea for birthday, Father's Day, Thanksgiving Day and Christmas! Each set includes 1 x mug, 1 x bag of brick accessories.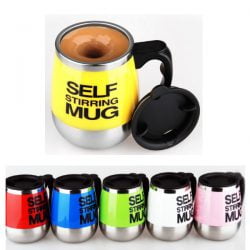 Self stirring mug
This product is made of stainless steel and easy to use. Just add water and powder into it, press the switch on the handle and the stirrer will start working. Free your hands, far away from the life that stir the beverage by spoon, now you just need to wait and drink with the advanced tech. And the newest update design with magnetized stirrer makes the cleaning easier.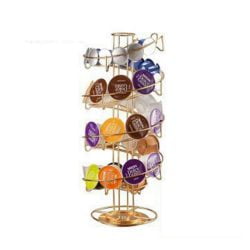 Capsule Holder
It's made of metal, which can hold 50pcs capsule. This great design is the most space-efficient way to store and organize your Capsules / coffee pods. It takes up little counter space and it will look beautiful with the colors of the coffee pods perfectly organized.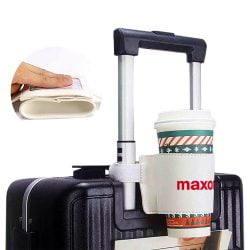 Hands Free Cup Holder for Luggage Handle
Hands-free! A nice decoration for your travel luggage and it is a secure holder for your coffee or drink. Premium PU leather strap safely slides over the telescoping retractable handle of your rolling luggage, the fine imprint for you to advertise your company. With a custom information card, it is a baggage tag for your luggage as well.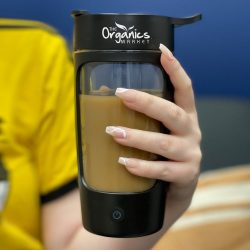 12 Oz Automatic Mixing Bottle
The Mix n Go is a 23 oz. lightweight and portable mixing cup, perfect for those who are always on the go! Simply pour in the ingredients, secure the lid and press the power button to begin mixing your favorite beverage! These are great for mixing coffee, protein shakes, etc. You can enjoy your drink at home, in the office, at the gym or in the park. The Mix n Go is made of ABS Tritan and is BPA free. It's easy to clean (hand wash only) and has a 2 hour battery life when fully charged. 
Click here for the full presentation
Creating promotional products for coffee lovers presents businesses with a valuable opportunity to connect with their target audience in a meaningful way. With careful planning, thoughtful design, and a focus on quality, your coffee-related SWAG can become a key component of a successful marketing strategy. Click below to learn more!