Custom Umbrella Options For All Situations
---
By Dean Schwartz (SWAG Master): As any good hotel can attest to, umbrellas are an incredibly effective promotional item.
They're appreciated by the recipients because you've now kept them out of the pouring rain or blazing hot sun. They're lightweight and portable, making them an ideal item for trips both across town and across the globe. They're large enough to display your company logo or message prominently, which increases brand awareness. And, of course, the item is used in public, which gives your company ample opportunity to be seen by others.
Our umbrella options can vary from incorporating advanced bluetooth technology, to simple sleek designs with a carry-on clip for backpacks – and that's not even considering the difference in colors, styles, and sizes. Luckily, our SWAG Experts are well-versed in custom umbrellas, and we'll customize the design to reflect your brand's personality and specific situation.
Check out some of our favorite options or click below for the full presentation.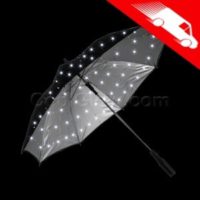 LED Twinkling Umbrella
Light up any rainy day with our durable LED Twinkling Umbrella. Suddenly playing in the rain just became a lot more fun! With the click of the button at the bottom of the handle, create a twinkling LED light display. Press the on/off button again for a constant LED mode. The umbrella, covered in dozens of white LEDs, features lights on the outside and inside of the canopy.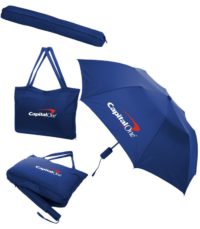 All-In-One Tote Bag & Folding Umbrella
Create a dynamic two-part presentation as a promotion for a trade show, seminar, corporate class or convention with this tote bag and folding umbrella set. This umbrella has automatic opening action to a 42″ arc with a matching color handle. The identically colored nylon tote is 20″ x 13″ with dual carrying handles and rolls up and to feature an interior zippered compartment designed to hold the umbrella – a great product combination!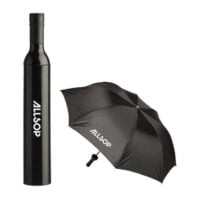 The Parisian Bottle Umbrella
Make an impression with this stylish umbrella in faux wine bottle- Celebrate events and special occasions with a touch of class- Simply twist off the top to reveal a fold-out, lightweight umbrella- Slides back in the watertight ABS hard case for drip-proof packing- Slim design easily packs for social get-togethers, travel or rainy days.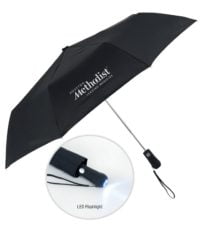 The Illuminator
See your way clear in bad weather with the Illuminator umbrella. This pongee umbrella starts out at a stow-able 13 1/2″ x 2″ x 2″. The auto-open action reveals a super-sized 44 inch arc. The design features sturdy fiberglass ribs, a black rubber handle, wrist strap and dual action swivel LED-powered flashlight with a red hazard mode for emergencies.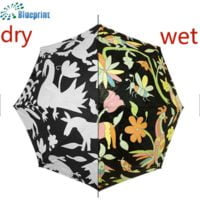 Color changing umbrella
The unicorn design on this pattern print umbrella bursts into a variety of vibrant colors on contact with water, a fun way for your kids to find magic in the rain! Closed length 32.67 inches. Coverage Diameter when open 42.5 inches. The 8-Rib umbrella structure is engineered by high-grade steel and super quality fiberglass, strictly in the line with principles of mechanics by excellent workmanship to provide the all parts works flexibility to fights the wind.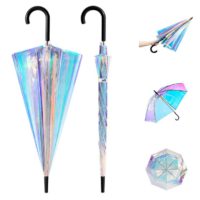 Colorful Transparent Holographic Umbrella
The Colorful Transparent Umbrella opens with spring-loaded button. Blended soft plastic, sturdy metal construction, smooth-touch matte rubber grip handle. The color-changing canopy is completely see-through, just like a clear umbrella, so it's ideal for those fashion-forward.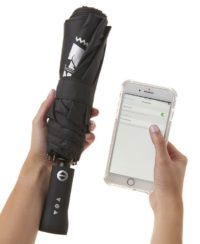 Phonebrella™ Auto Umbrella
Now when it's raining, answer and talk to your friends without touching your phone. Leave your phone in your pocket or bag and just tap on your umbrella and you are connected. You can even listen to music. Featuring exclusive Bluetooth technology coupled with a microphone and speaker in the handle. This umbrella will tell you when it's going to rain… REALLY!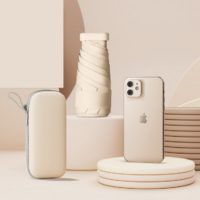 Mini Portable Folded Umbrella With Case
This umbrellas is made of 190T pongee polyester canopy. It can be folded into a palm sized, which is an ideal windproof companion for daily use. Protecting you from rain and sun with its portable design, and let you stay dry from start to finish. Flat concise handle design make your umbrella more convenient for storage into your pocket, auto glove box, door side etc. Its black lining is vinyl coated which shields ultraviolet effectively.
People appreciate receiving useful items that they can use on a regular basis, and umbrellas are the gift that keeps on giving for marketers and recipients alike. Plus, with a wide range of price points, you can find an umbrella to fit any budget. Click below to reach out for custom umbrellas for your company!