SOBO's Favorite Travel-Related SWAG and Top 10 Travel Tips
---
By Dean Schwartz (SWAG Master): Today let's discuss the best gifts for those on-the-go and review our most up-to-date presentation of travel-related SWAG.
The airport or any travel day can quickly become a hellish landscape if you're not properly prepared – make sure your most loyal clients and employees have you to thank for the convenience on their next trip. From multi-tool chargers, to comfortable apparel, and innovative organizers to make any trip a breeze, SOBO has it all for our jet-setting friends. Not only will this make your SWAG that much more memorable, but the brand exposure gained at public spaces like airports make travel SWAG a safe bet for a high ROI.
Continue reading for our top 10 list, or scroll below for a few of our favorite options. You can also click here to jump directly to our Travel SWAG Presentation.
SWAG Master's Top 10 Essential Gifts for Travel-Enthusiasts
Universal travel adaptors & USB hubs – Traveling to international destinations, having one or multiple travel adaptors are essential. No matter where you travel, having a USB hub to plug in your multiple tech items is extremely beneficial.
A great pair of earbuds, headphones or even a bluetooth headband (great for sleeping) with the longest battery life possible. Having a back-up pair for those long flights is also super helpful. Also, a pair of good quality wired headphones to connect to in-flight entertainment. A wireless audio transmitter that allows you to listen to in-flight entertainment on your bluetooth earbuds is also really useful.
Chargers – You will need two types of chargers. If you're an Apple user, a tri-charger that simultaneously charges your phone, iwatch and airpods while you sleep is extremely useful and eliminates the need for multiple charging cords. Also, having a portable charger with build-in cables and at least a 10,000 mAh battery is imperative when you need to recharge on the go.
Carrying your own water bottle comes in handy. Most airports have water filling stations and staying hydrated on the go is extremely important. UV bottles are great to make sure that your water is purified. Collapsible bottles are also great to reduce the amount of space required when you're not using the bottle or as the water in the bottle goes down.
A folding backpack or duffle that packs up really small, just in case you made some purchases and need an extra bag. The backpack is also great for using during the day. They can also be used to compartmentalize stinky laundry.
Puffer jackets are great for many reasons… They take up no room in your luggage, can be used as a pillow on the plane (some come with a special pouch to facilitate this) and are great layering pieces, wear a sweater underneath if it's cold or use just a t-shirt underneath if it starts to get cold.
Merino wool t-shirts are great in both the heat and cold. They regulate body temperature incredibly well and are amazing for those long flights because they also do a great job controlling body odor.
If you haven't tried using packing cubes, you don't know what you're missing. They come in different sizes and make unpacking at your hotel or Airbnb super easy. If you have to live out of your luggage, they also make everything a lot neater and easier to find.
Tech & cable organizers come in incredibly handy to help control the unruly amount of cords for all our tech.
Passport holder & Identifiable luggage tags  can be gifted together or separate. Passport holders are great, especially for traveling with family and keeping everyone's documents together. Large, brightly colored luggage tags also come in handy when you're looking for your bag at baggage claim.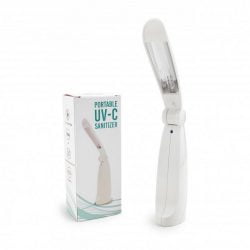 Portable UV-C Sanitizer UV-C Sanitizing Wand
UV-C Sanitizing Wand is a portable handheld device with UV-C light built-in to kill 99.99% of germs and bacterias. The compact design makes it convenient for use wherever you go. Simply turn on the power and eliminate germs from objects and surfaces. effectively killed 99.9% of pathogens on surfaces within 15 seconds. * works across any surface – whether its your phone, countertop, keys, wallet, or watches. Point the wand 2-3 inches away from the surface and hover for 20 seconds for best result.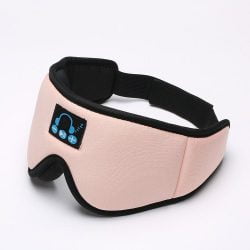 3D Sleep Mask Bluetooth® 5.0 Wireless Music Eye Mask w/UltraHD Stereo Speakers
3D Sleep Eye Mask is made of rebound memory foam, soft and comfortable. Extra cushion makes eye mask and nose touch better, which can be completely shaded. Featuring with Bluetooth® version-5.0 technology, 35 feet wireless range. Sleep headphones Bluetooth® sleep mask has a full coverage and uniquely designed of the nose area, effectively blocking light from entering, prevent light leakage. Eye Mask for Sleeping with new design Velcro Strip can be adjusted according to the head size.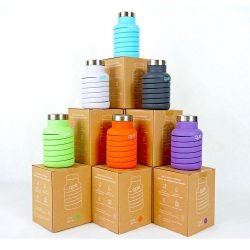 Que Bottle
20oz. fully collapsible water bottle with unique spiral design. Stands 4.8″ tall when collapsed, and 8.4″ tall when expanded. Leak proof and shockproof. 100% FDA and LFGB approved food-grade silicone. 100% plastic free making it safe as well as taste and odor free. 100% premium kitchen-grade 18/8 stainless steel cap with wide mouth opening for ice cubes. Safe for both cold and hot beverages. Dishwasher safe. Hand wash lid with pad or digital print.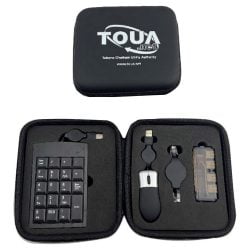 USB Travel Kit with Portable Keyboard & Mini Hub (4 Piece Set)
Looking for a versatile and reliable USB C to USB adapter? Look no further! Our adapter is fully compatible with any laptop, tablet, or smartphone that has a Type-C port. With this adapter, you can easily connect standard USB accessories and cables to your USB-C or Thunderbolt 3 device without any interference with your Wi-Fi signal.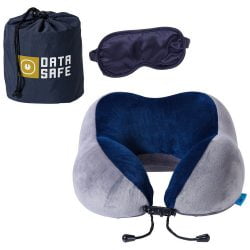 AeroLOFT Business First Travel Pillow with Sleep Mask
Take a rest with our Business First Travel Pillow with sleep mask! Features a luxurious, soft plush exterior and memory foam inside the travel pillow. The sleep mask is 100% Polyester satin fabric with an elastic strap for a comfortable fit. Comes with the pillow, mask, and carry pouch.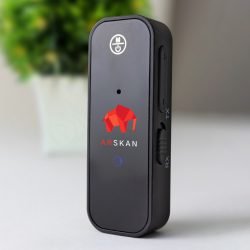 FlyE1 Wireless Audio Transmitter
Bluetooth wireless transmitters will connect your wireless headphones or earbuds to any audio jack. Use it on the plane, boat, or in the gym, anywhere there is an audio jack.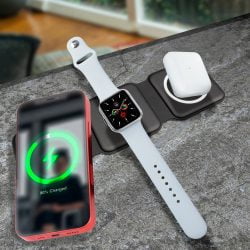 Chi-Charge Stack and Wall Charger in Zipper Case
Charging multiple devices at once while on the go just got easier. The Chi-Charge Stack is our brand new compact device that can wirelessly charge a compatible phone, watch, and earbud case all at the same time. It is a powerful device that makes a powerful statement.
For the full list of our great, travel-related items that can be customized with your company's logo or graphics, CLICK HERE.
This is just the tip of the iceberg when it comes to the possibilities. SOBO can design any kind of SWAG you dream up, so don't hesitate to click the button below and give us a shout.