Make Any Tailgate A Success With Custom SWAG This Football Season
---
By Dean Schwartz (SWAG Master): Has your company created SWAG for this year's football season yet? It's becoming increasingly common for brands to invest more in marketing during American football games, especially when it comes to tailgating SWAG typically worn and engaged with prior to kickoff.
Why? This strategic approach aims to connect the brand with the vast and passionate fan base of any given city a company hopes to expand in. As the sport grows, more and more businesses recognize that SWAG geared towards these attendees can directly influence them and leave a longer-lasting impression than most other giveaway events during the year. 
Tailgating events also often draw large crowds, both in-person and potentially through television or social media coverage. By creating and giving out fun SWAG, brands can significantly enhance their visibility and exposure, essentially turning enthusiastic fans into walking advertisements around the stadium.
Plus – think about how many people are taking pictures at these events. Everybody that posts pictures to their Facebook or Instagram with your logo in it is essentially free marketing. Just make sure you're supporting the home team! 
The right SWAG can make these already engaging events that much more memorable. Continue scrolling below for some of our favorites or click the button for our full presentation.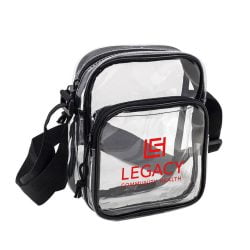 2-Zipper Soft Clear Small Messenger NFL Bag
Main compartment with zippered closure. Front zippered pocket with gusset. Adjustable shoulder strap. The messenger bag features a convenient 2 zippered closure, allowing you to store additional items or keep your frequently accessed belongings within reach. It's perfect for holding your phone, wallet, keys, or any other essentials you need to keep handy. It ensures a comfortable fit and enables you to carry the bag in the most convenient way for your lifestyle.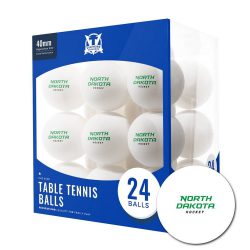 Custom Table Tennis Balls 24CT
Never miss a match with the Custom 24-Count Table Tennis Balls. These recreational-quality table tennis accessories are perfect for leisurely family play while maintaining ITTF regulation size and weight (44mm). With Victory Tailgate's full-color capabilities, you can be certain that we'd be able to print any logo you're looking for!  40mm Diameter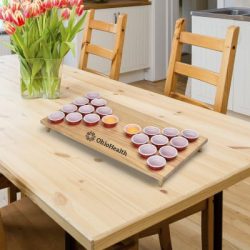 Tabletop Beer Pong Game
Fun for everyone…in the office or at home! Precision cut cup rack securely fastens cups in place. Snug fit prevents mini cups from tipping and spilling of chosen beverageBeautiful hardwood construction. Includes 24 cups and two balls.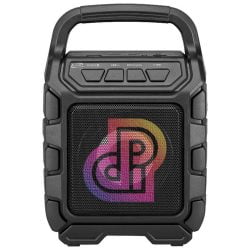 iLive Wireless Mini Tailgate Party Speaker
Take the party wherever you roam with our Wireless Tailgate Speaker featuring Bluetooth 5.0, Digital FM radio, Aux in, and USB port and SD memory card reader (for MP3 files). Built to disperse sound, this easily transported miniature tailgate speaker will be your go-to for parties and tailgates alike. The mesmerizing LED light effects bring your parties to life and 6 hour battery life (rechargeable) make this tailgate speaker a must-have.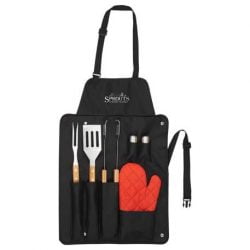 Bbq Now Apron And 7 Piece Bbq Set
The all in one BBQ Kit Includes an apron, spatula, fork, tongs,oven mitt, and a salt & pepper shaker. These are the essentials to have a successful BBQ. Adjustable back and neck strap allow the apron to be adjusted for a comfortable day in front of the grill.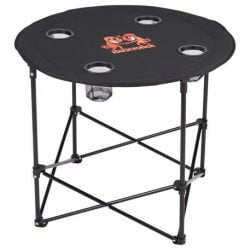 Game Day Folding Table
Celebrate your next tailgate or picnic with this folding round table! Or prominently display your logo at a tradeshow or company event while entertaining your guests. The table is light-weight and easy to transport and assemble/disassemble. Features a sturdy steel frame, durable 28.5″ diameter 600D table top, and four (4) integrated mesh cup holders.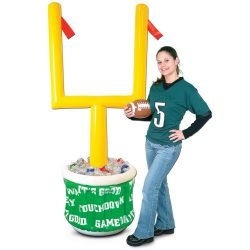 Inflatable Goal Post Cooler w/ Football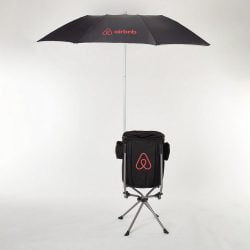 High Stand Cooler w/Speakers
High stand cooler with matching 6′ umbrella. Quick open top pocket for easy access. Dual AUX speakers to enjoy your favorite tunes. Includes carrying bag and shoulder strap.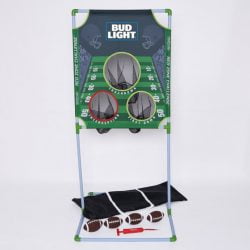 RedZone Football Challenge
A brand-new game for football fans of all ages! Perfect for tailgating, The Red Zone Challenge includes 4 inflatable footballs, a ball pump, and a portable carry case. Constructed from sturdy PVC, the game assembles in less than 2 minutes and can be easily stored in a compact carrying case that weighs under 15 pounds!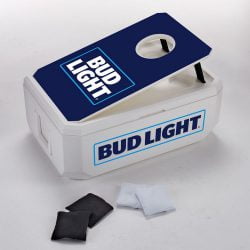 Cornhole Cooler Game
Never play cornhole without a drink in your hand again! Lightweight and portable, yet heavy duty, this cornhole set doubles as a 40-can cooler! The Cornhole Cooler Game is a great branding opportunity, and the bean bags are available in 4 different colors.
Don't see anything you'd like? Click here for our full presentation
Maximize your brand visibility and make a lasting impression with thoughtfully designed SWAG for tailgating at football games. Click below to get started.