The Game-Changer: Exploring the Advantages of Creating Hockey SWAG
---
By Dean Schwartz (SWAG Master): Great promotional products connect with their audience on a personal level, and there's nothing more personal to most Americans than their favorite sports teams. When you combine the two, specifically in a sport with fans as passionate as hockey, you're setting your company up for success in a growing market. 
Not only does great hockey SWAG generate brand awareness and loyalty, but they also serve as effective tools for engaging with fans and increasing revenue. Promotional products can even play a significant role in enhancing the game-day experience for fans. From giveaway items to interactive contests, businesses can create memorable moments that go beyond the action on the ice. These products not only add value to the fan experience but also create lasting impressions. By providing unique and exciting promotional items, businesses can ensure that fans have a positive and unforgettable time at the game.
Don't forget: the landscape of promotional products in the hockey category is continuously evolving. As technology advances and consumer preferences change, businesses need to stay ahead of the trends. Innovations such as augmented reality integration, eco-friendly materials, and interactive digital experiences present exciting opportunities for businesses to engage with fans and differentiate themselves in the market.
To check out a few of our favorite hockey SWAG options, continue reading below or click the button for our full presentation.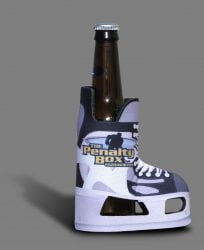 12oz Hockey Skate Bottle Hugger
Custom shaped hockey skate bottle hugger beverage insulator made of polyester foam. Cheer on your favorite hockey team!! Keeps your beverage cool to the last drop. These colorful advertising mediums offer imprints on both sides at one low price and set up. Create your own background or select from our wide selection of stock backgrounds. Made in America and NO DIE CHARGES!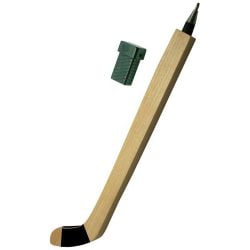 Wooden Hockey Stick Pen
This hockey stick shaped ballpoint pen will be the hottest thing on ice and will help you with your marketing goals. Customized with your company's logo or slogan you are sure to score promotional points with this as your trade show or event giveaway. Hockey rinks, hockey teams, sporting goods stores, and many others will thoroughly enjoy the benefits of this pen. Products are not intended for use by children or pets. They may present a choking hazard to children under 3 years of age.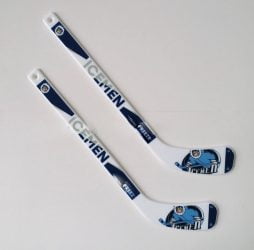 Imprinted Mini Hockey Sticks
This product is made of sturdy ABS plastic. There is a hole for easy wall hanging. Perfect for sports bars, hockey teams, local hockey clubs, and any brand that loves sports.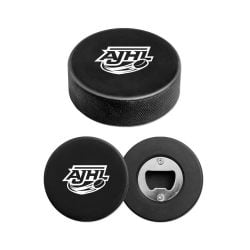 Hockey Puck Bottle Opener
Promote your team or brand with the coolest bottle opener in sports! This official size hockey puck has a built-in stainless steel bottle opener. Great giveaway for sports events, bars, restaurants, and more!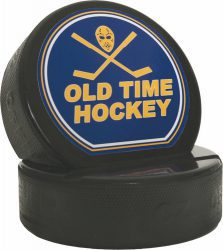 Smart Device Stand
The smart device stand is made with two hockey pucks – one for the back and one for the base; the base offers a slight groove to keep your smart device secure and on your desk. Price includes full color digital decal on puck.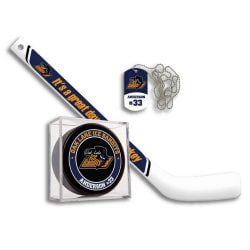 Hockey Hat Trick Package
Show off your team spirit with the perfect hockey giveaway package. Each set includes 1 import puck with one-side imprint in plastic cube display case, 1 mini hockey stick with shaft imprint, and 1 dog tag with two-side imprint (available in black or white finish) with same full-color imprint on each item.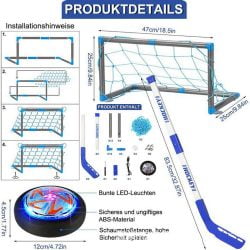 Hockey Set
This set of hockey can be played by both adults and children. It is an interactive game that can enhance the relationship. With air cushion pneumatic suspension design and powerful motor, let it can slide freely on the most flat and hard surface such as wood floor, ceramic tile and even low pile carpet. These goals and hockey sticks can be easily installed or disassembled, children can install individually, just using the screwdriver to tighten the screws.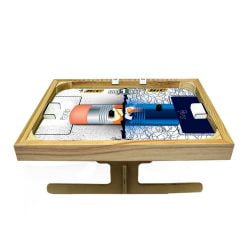 Custom Tabletop Mag Ball Game
Mag-Ball is played just like tabletop soccer or hockey except there are 2 players that use magnetic rods to control the kickers on the top of the board. Game includes 2 players and 1 ball. Points can be logged by the handy, side-mounted scoring rail that counts 0-10 on each players' side of the field.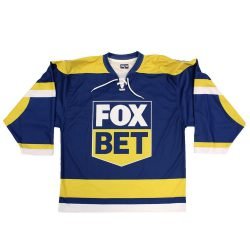 Hockey Jersey
The ice is cold, and the tension is high as Coach Bombay and the Ducks face, nemesis, Coach Reilly and his Hawks in the title game. Show everyone your team pride with our custom cut and sew sublimated dimple mesh polyester hockey jersey featuring a mid-weight performance feel. Add to your crisp graphics with a personalized name, brand and favorite player's number as you chase Stanley Cup Glory! Twill and embroidered patches are available to make this unique design feel that much more authentic.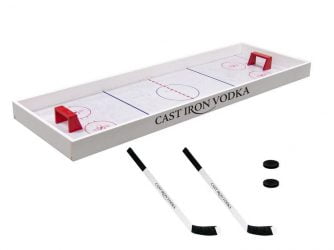 Tabletop Hockey Shuffleboard
Take the fun with you on the go with this portable hockey shuffleboard game, ready to entertain indoors or outdoors! This portable hockey game can be set up at your next trade show, indoor event, or even tailgates on pavement. This game comes complete with two mini hockey sticks and two pucks. Try and shoot your puck into the opponents goal to win!
Click here for our full presentation
From building brand awareness and fostering fan loyalty to increasing revenue streams and showcasing sponsorship opportunities, these products are powerful marketing tools. By harnessing the passion and excitement of hockey fans, businesses can create lasting connections and drive their success in the sports industry. Click on the button below to reach out today!