Holiday Gifting: The Best SWAG Options for Over $50
---
By Dean Schwartz (SWAG Master): Did your corporate holiday gifting program really rock last year? Or were you forced to buy SWAG that SUCKS because you waited too long to come up with cool & creative ideas? These are the tough questions you have to ask yourself when planning for this year.
If it isn't clear by now, the SOBO team has fully focused to fulfilling your holiday gifting needs (and are capable of answering the above questions for you if needed). A couple of weeks ago we informed you of holiday favorites with a longer lead time you'll need to order earlier this year. Today, let's review our favorite holiday gifts for more than $50 – because sometimes you have to spend money to make money.
Mixed within the presentation you'll find everything from the latest tech gift sets, to the best backpack/tumbler combos, and fun games to keep the entertainment rocking all night long. There's something for everybody. Hit the button below or keep scrolling for a preview!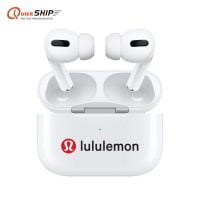 Apple AirPods Pro w/wireless charging case
"Magic like you've never heard." We are proud to be the first supplier in the industry to offer Custom Apple AirPods Pro in our premium tech category. We guarantee our custom Apple AirPods Pro will has competitive price, customization options and excellent dedicated customer service. The new AirPods Pro feature in-ward and outward facing microphones to maximize the noise cancellation process by making adjustments 200 times per second.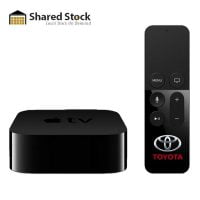 Apple TV with 4K
The Apple TV + 4K 32GB is now available for your logo customization!! This premium tech-promo is the highest sought out tech brand. Imagine your logo on this Apple TV product and being seen every day by consumers. That's high-end branding at it's best!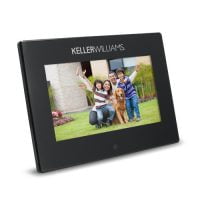 7″ Digital Photo Frame
Show off your favorite family moments with the new SnapShot Digital Photo Frame. The 7-inch LCD screen delivers high-resolution images for vibrant, accurate pictures of your favorite memories. View photos, videos, & listen to music. Alarm clock & calendar function Panel resolution: 1024 x 600 pixels Supports multiple memory card formats including MMC, SD, & SD High Capacity for quick media transfer. Also includes built-in USB 2.0 port.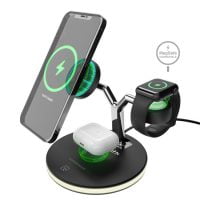 HyperGear MaxCharge 3-In-1 MagSafe Wireless Charging Stand
Streamline all your charging with the MaxCharge 3-in-1! This all-in-one wireless charging solution reduces cable clutter and adds ease to your daily routine. Charge all your Apple devices in one convenient place with a universal wireless charging pad for AirPods or even another phone, and a built-in Apple Watch charger mount. Streamline all your charging with the MaxCharge 3-in-1! This all-in-one wireless charging solution reduces cable clutter and adds ease to your daily routine. Stylish and compact, the MaxCharge is a perfect complimentary piece to any table, desk, or nightstand.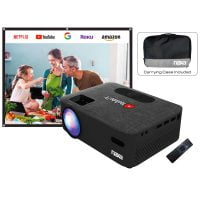 Naxa Home Theater LCD Projector Combo
Enjoy all your favorite sports teams, movies, and TV shows with friends and family in an immersive LCD entertainment experience. LCD projector delivers high-quality entertainment in vivid imagery. Offers a wide variety of multimedia functionality, allowing you to stream media via USB flash drives, memory cards, 2 HDMI connections. High-powered speakers will fill any entertainment room for all to enjoy! Enjoy streaming all types of movies, music, and media through various apps.
Let's make sure your recipients feel appreciated this year. Instead of wasting money on a thousand cheap items, focus on leaving a lasting impact by using your SWAG budget for something more memorable.
If you want the best bang for your holiday-spending-buck, shop SOBO by clicking below to get started. Whether you're gifting long-time employees, or loyal clients, we'll take the time to help you find the best SWAG solution for your company's needs. Hope to hear from you soon!