The Power of Promotional Products: How to Successfully Send SWAG to Influencers
---
By Dean Schwartz (SWAG Master): Sending out the right promotional products to people typically has the desired effect: when people receive a product with a company's logo or message on it, they are more likely to remember the brand and think of it in the future. This can be especially valuable, however, in the case of influencer marketing.
Since influencers often have a dedicated and engaged following, their viewers often look at product endorsements as a "word of mouth" review. Studies recently revealed that "61% of consumers trust influencer recommendations, compared to 38% who trust brand-produced content". And, by sending your company SWAG to the right influencer, you can increase your brand awareness with an entirely new audience segment.
Influencer Marketing Will Help Your Company:
Increase brand awareness: Giving away branded merchandise can help to increase brand visibility and awareness among the influencer's followers.
Improve authentic product placement: Influencers are able to use and showcase the product in a natural and authentic way, making it more likely that their followers will be interested in purchasing the product themselves.
Increase credibility: Partnering with influencers and incorporating promotional products into their content can lend credibility to a brand and help to build trust with the influencer's followers.
SOBO Can Help:
Identify the right influencers: Look for influencers who align with your brand values and have a following that matches your target audience.
Choose the right products: Select promotional products that will appeal to the influencer's followers and that can be incorporated into their content in a natural and authentic way.
Create a clear call-to-action: Encourage the influencer's followers to visit your website or make a purchase by including a clear call-to-action in the influencer's content such as QR code or links.
Sending SWAG to influencers is a new and extremely cost-effective way to market to new potential consumers, but the key is in choosing the right promotional product. That's where our #SWAGwithStyle comes in. 
We've searched the web for the best SWAG to send out to influencers – or any trendy "online" person, really – and compiled them into the presentation link below. Keep scrolling for some of our favorites or to learn more about how you can score some for your company's influencer of choice.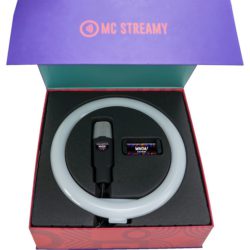 McStreamy
The McStreamy is a beautifully packaged kit including a light ring, phone holder, and a studio-quality microphone. The combination greatly enhances the visual and audio quality of any livestream or virtual meeting. The 10″ light ring has an integrated phone holder and adjustable arm. The studio-quality, mic is paired with an elegant, portable stand. Both the light and mic are full-color imprinted.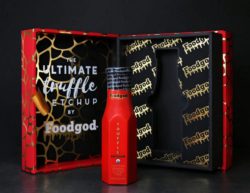 Custom Printed Full Color 2-Piece Soft Touch Luxury Gift Box – Custom-Sized
A Classic gift box with customizable high definition logo imprint and elegant soft-touch exterior finish. This box has a clean edge exterior design featuring thick reinforced interior walls in your choice of a smoothed interior made from 100% recycled FSC certified paper. These boxes bring value to anything lucky enough to be placed into them. With their soft to the touch feel and handcrafted quality, these boxes and your clients' branding will never be discarded but will be cherished.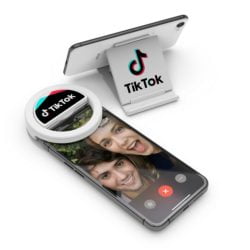 Lit Kit : Clip on Ring Light and Phone stand
Ring Light Camera Cover & Phone Stand Light up your brand with Lit Kit. Two useful products that can be used in tandem or independently. Use the Aura: ring light & camera cover to add extra lighting to take photos, video chats and more. When needed, the built-in camera cover will cover up your camera/webcam to protect against cyberthreats or webcam espionage. Use the FoldStand: phone stand to rest your phone against it at a comfortable angle; perfect for watching videos or surfing the web.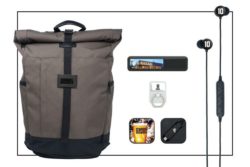 SWAG Kit #1
Looking to impress a client or reward and welcome a new employee? It's in the bag with this awesome bundle! Carry, charge, sync and listen with this 5-in-1 bundle option. This 5-piece gift set comes with our best sellers:El Dorado Smart Backpack, Budsies wireless Earbuds, EnergyBar 2200mAh Power Bank, Argonot MFI-certified Cord with Micro-USB, SpinSocket. Any or all of the items can be personalized at no additional charge, with no setup charges and only a 1-piece minimum.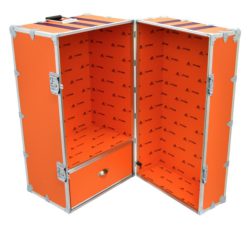 Rhino Wardrobe Trunks
Unleash your new offering and impress your influencers with a quality Rhino Wardrobe Trunk. Beyonce took social media by storm with a series of adidas x IVY PARK "unboxings"- one of which prominently features an adidas x IVY PARK-branded Rhino Wardrobe Trunk. Visit the SAGE sales tools section to view the stop-motion Instagram post featuring the adidas x Ivy Park Wardrobe. Beyonce raised the bar for influencer packaging. Rhino Trunk & Case can help you do the same.
Don't see what you're looking for? Click here to give us a shout.
Simply put, promotional products are an important tool in influencer marketing. They provide a tangible way for brands to reach a target audience, build brand awareness, drive sales, and build brand loyalty. By providing influencers with promotional products, brands can tap into the influencer's audience and reach potential customers who may not have been aware of their products before and our SWAG can be a powerful way for a brand to establish a strong presence in the market.