From Munich to Main Street: Why Oktoberfest Merch is a Marketing Must-Have
---
By Dean Schwartz (SWAG Master): Originally celebrated in Munich, Germany, Oktoberfest is a traditional folk festival that's grown into a 16-18 day party running from late September to the first weekend in October.
With festivities like beer tents, parades, music, and traditional costumes, it has become a global celebration and can be an opportune time for businesses to enhance their brand visibility, foster a sense of belonging, and leave a lasting impression with event attendees around the world.
Why Create Oktoberfest SWAG? 
Fun Means Memorable: Emotional connections play a crucial role in = retention, and who doesn't want their brand to be associated with fun? Oktoberfest-themed promotional products can evoke a sense of camaraderie, happiness, and even nostalgia, fostering stronger emotional ties with your brand and making it more likely you'll be remembered in a positive light.
Create A Sense of Novelty: Since Oktoberfest is a specific event that only lasts for a few weeks, offering promotional products tied to the occasion creates a sense of novelty. Customers may be more inclined to make a purchase or engage with your business to get their hands on these limited-time items, or employees may appreciate the gift more due to it's timely nature. 
Souvenir Appeal: Oktoberfest is a memorable event for attendees – even for those not celebrating in Germany. People often like to collect souvenirs to commemorate the occasion and our SWAG can serve as souvenirs, reminding people of the fun times they had at the festival and reinforcing your brand message long after the event concludes.
But remember – with so many businesses vying for attention during the festive season, unique and innovative promotional products are the only way to set your brand apart from the competition. Being distinctive helps ensure that your brand stays in the minds of potential customers long after the festival is over. Luckily, SOBO's Staff can help.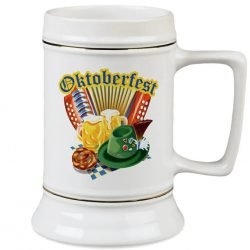 28 Oz. Frankenstein Mug
This is a monster of a mug! It features an easy grip handle with a 18 karat gold band accent and is top-rack residential dishwasher safe. These mugs do not require protective over-pack saving you & your customer money – but we can also drop ship directly to the recipient if needed!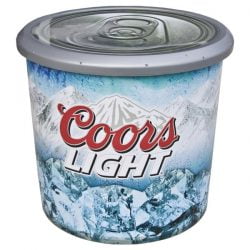 VP Big Can Storage Container
VP Big Can is a molded one piece multi-use container with removable lid. A heavy duty mold allows for more stability and can withstand larger weight loads. It is made in the USA. Versatile storage capabilities and uses as a drink holder POP display, planter, and more. Full color customizable body and lid.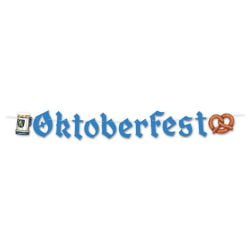 Custom Printed Oktoberfest String Banners
Custom Printed Oktoberfest String Banners. Printed using 4-Color Process on 1-side of paper board stock. 12′ of White String included. Customer assembly required.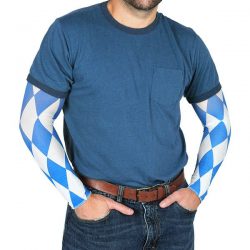 Oktoberfest Party Sleeves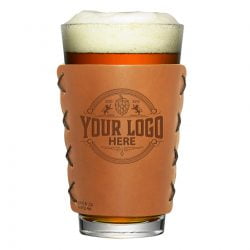 Genuine Leather Pint Glass Holder
The Original Double Stitched Genuine Leather Pint Sleeve. Fits any standard 16 Oz. pint glass. Made with two pieces of leather with stitching up both sides. Also has a foldable slim presentation while fitting in your pocket. Available on a hangtag or as a complete box set. Your logo will be permanently branded/debossed into the leather and as a result, will never wash off nor fade away. Our leather sleeves are handcrafted in Asheville, NC using domestically tanned full-grain cowhide leather.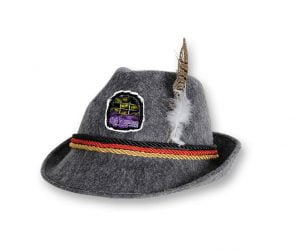 German Alpine Hat w/A Custom Printed Faux Leather Icon
German Alpine Hat wit a Custom Shaped Faux Leather Icon. One size fits most.  Featuring full coverage print on 1 side using 4 color process.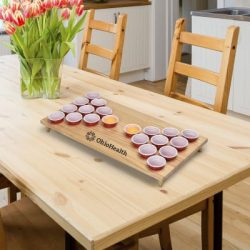 Tabletop Beer Pong Game
Fun for everyone…in the office or at home! Precision cut cup rack securely fastens cups in place. Snug fit prevents mini cups from tipping and spilling of chosen beverageBeautiful hardwood construction. Includes 24 cups and two balls.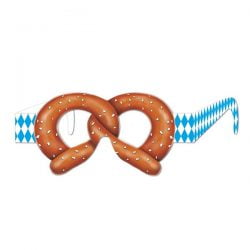 Pretzel Eyeglasses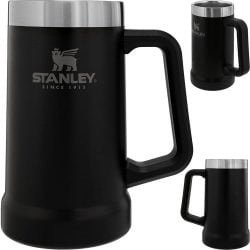 Stanley The Big Grip Beer Stein 24oz
Oktoberfest isn't just a celebration—it's a state of mind. Raise a glass to fun with this durable stainless steel beer vessel. It's big enough to hold two cans of beer & keep them cold from the minute you pour to the moment you finish your last sip. A heavy-duty handle lets you keep a firm & steady grip on your drink.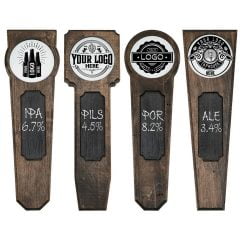 Hardwood Home Brewer Tap Handle with Chalkboard
Bars are busy! Stand out more with our hardwood tap handles. When someone orders your beer, they're going to be pointing at your tap handle. These work great on kegerators, home bars, breweries, and restaurants. Choose between four classic shapes: The Original, Square, Round and/or Triangle. We handcraft each handle out of quality hardwood with a 16-thread 3/8th" brass threaded insert, full color option inlaid plate and an inlaid chalkboard.  
Click here for our full presentation of Oktoberfest SWAG
Overall, creating promotional products specifically for Oktoberfest aligns your business with a popular and joyous cultural event, helping you connect with a targeted audience while boosting brand recognition and engagement. Click the button below to learn more!