Purrfect Pet Promotional Products for Our Furry Friends
---
By Dean Schwartz (SWAG Master): Anybody who owns a pet knows the attachment and love developed for our little furry friends. We spend so much time together and create such a bond that they truly become a part of the family – which is another reason why sending promotional products specifically for pets can be such an effective business decision.
The key to any great promotional product is simple: they're useful, they're memorable, and they're made from quality material. SOBO's pet promotional products check all of the above and then some. Not only will our SWAG make your clients and employees happy, but it'll set you apart from competitors and get your company noticed.
Continue scrolling for benefits, as well as some of our favorite pet promotional product options – or check out our full presentation via the button below!
The Benefits of Sending Pet Products
Strengthen relationships: People love their pets, and sending a gift for their furry friend shows that you care about something that is important to them. This can help build a stronger connection with your clients and employees.
Show appreciation: Everyone likes to feel appreciated, and sending a thoughtful gift that your audience wouldn't otherwise buy for themselves can go a long way in making them feel valued.
Stand out from competitors: Sending pet products as promotional items is a unique and memorable way to differentiate yourself from competitors who may be sending more traditional items.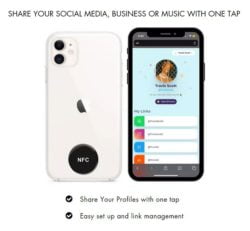 Smart NFC Tag Contactless Info Sharing
NFC tags have a wide range of applications. By simply tapping or scanning the tag, pre-programmed information can be accessed on a cell phone or any other NFC-enabled device. This makes it easy to share your social media, music, or business contact information with just one tap. Both iPhone and Android users can benefit from NFC tags, as they can be used to visit a website, share a file, launch an app, connect to a Wi-Fi network, trigger smart home automation, locate your pets. 
Logo Dog Cookie
Cookie with all natural dog-friendly ingredients; Made in USA. Each bone shaped Cookie has eye-catching 3D logo. Cookies are individually wrapped; LOW MINIMUM.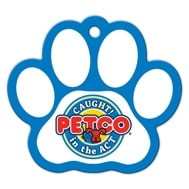 Paw Print Shaped Luggage Tag
Printed exclusively with a full color imprint onto plastic with a high gloss laminated finish. Luggage tags are an industry standard but there is nothing standard about our Custom Stock Luggage Tags. Brand your luggage tag on the front, easily write your information on the back and choose from many colors for the loop attachment. Travel safe.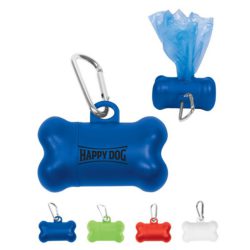 Pet Waste Disposal Bag Dispenser
Case made of polypropylene plastic and features storage compartment filled with approximately 20 disposable 0.0007 mm PE starter bags for the careful pet owner. Bag color matches case color. Refills not available for purchase, however case unscrews to refill with extra plastic shopping bags from around the home or your local pet supply store. Includes a silver metal carabiner for use on the go.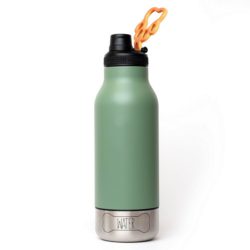 34 oz. Asobu Buddy – Insulated Bottle, Water Bowl & Food Storage
The Buddy comes with a detachable water bowl at the bottom of the bottle. Simply pour from the top of the bottle into your dog's bowl so you can hydrate your dog throughout the day, while you can drink from the top with no cross contamination. Once you remove that bowl you have another bowl inside to store and feed your dog food or snacks. The bottle has an easy carry paw handle and has a 30.oz capacity so you and your best friend have more than enough water to share. Sharing is caring!  
As always, we can create just about anything you dream up. If you don't see what you're looking for in the full presentation link above, click here to give us a shout.
Sending promotional products for pets is a fun and effective way to increase client retention and employee satisfaction, while also promoting your brand. By selecting the right products and personalizing the campaign, you can create a memorable experience for your clients and employees that will leave a lasting impression. So why not give it a try and see the positive impact it can have on your business?