Picking The Right Pickleball SWAG
---
By Dean Schwartz (SWAG Master): Finding what your recipient is half of the battle when it comes to creating effective SWAG. When you learn that an employee, or client, or prospect that you're trying to get the attention of is interested in a sport such as pickleball, it becomes a lot easier to gain their loyalty towards your brand.
We've previously covered the best pickleball SWAG when it first began to sweep the nation, but today we're here to present you with the latest and greatest to help your brand. By creating unique pickleball SWAG, you're showing the recipient that you're hip, you care about their interests, and you understand them. Show all that and more after talking with one of our SWAG Experts about the best pickleball SWAG for your company!
Check out a few of our favorites below or reach out at the bottom of this blog for more information.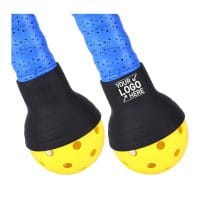 Pickleball Ball Retriever Picker Upper
Rubber material, soft and elastic, high quality, handy to carry. The pickleball ball retriever is lightweight. Simply press it on the ball and the ball will stick to the putter sucker to pick up the pickleball balls without bending down. The pickleball ball retriever is designed for minimal paddle grip interference, the suction cup will not get in the way of your play, ergonomic pickleball ball paddles pick up accessory pickleball Equipment.Your logo is highly welcomed!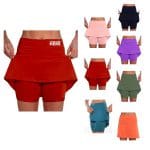 Double Layer Skirt Short
High rise and wide waistband design to protect and hide your belly and stay in place. Provides a natural fit and adequate coverage. These versatile skorts are ideal for tennis, golf, badminton, roller skating, running, yoga, athletics, pickleball, cycling, volleyball, hiking, cheering squad, or even everyday casual wear.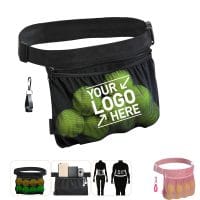 Sports Ball Holder for Pickleball Tennis Golf Waist Bag
It is made of sweat resistant fabric, no more worry about sweating your bag and belongings. This ball holder bag comes with a high quality stretchy mesh pocket, it can easily hold 8 tennis or 6-8 pickleballs or 30-40 ping pong or 10-20 golf balls and fits snag in the pocket. It is also available with a large volume zipper pocket for extra storage. We've included a Hook Gift for you, it is great for holding sports towel, backpack, gloves or other accessories.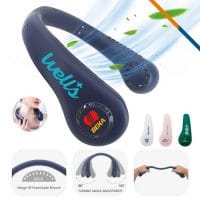 Tysa Bladeless Neck Fan
Tysa bladeless neck fan was designed to free your hands, lightweight and portable you can take it anywhere. Unique silicone adjustable design provides more comfortable wearing experience, and adjusts to different size needs. Built-in 3000mAh rechargeable battery provides up to 9 hours strong wind power. Neck fan rechargeable with USB cable (included) by power bank or AC adaptor or phone charger. 3 adjustable speed to adjust the proper fan speed to meet your needs.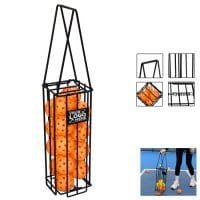 Portable Pickleball Tennis Ball Collector Pickleball Retriever Basket
The durable stainless steel materials and construction will make it last for years. The spring-action design makes it easy to grab pickleballs or tennis balls off the ground and keeping your ball safe and sound.The Pickleball Tennis Ball Retriever is the great tool to help you save your back, hips, and knees while playing pickleball or tennis. No longer need to bend over to pick up the ball again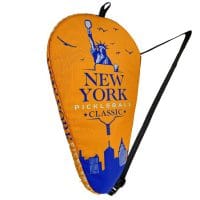 Full Pickleball Bag
Stay in the game and keep your paddle protected with our pickleball bag. Covering your full pickleball paddle featuring a zipper closure for a snug fit, and 1″ polypropylene webbing adjustable shoulder strap. Measuring 16″H x 10″W x 1″. Imprint your logo and design through our sublimation process. Paddle not included. Customize yours today!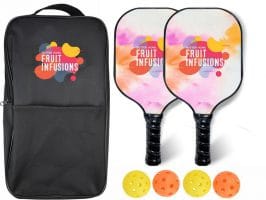 Premium Fiberglass Pickleball Paddle set of 2 with balls
Premium Pickleball Set includes 2 pickleball rackets, 2 outdoor pickleball balls, 2 indoor pickleball balls, and 1 carry bag. These paddles are made honeycomb structure with premium fiberglass face, which has excellent strength and stiffness. They are intended for both beginner and professional players.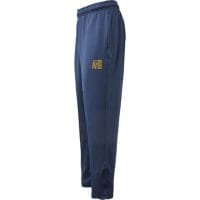 Adult Flex Pre-Game Pants
These pants are mid-weight 100% polyester performance interlock pants with a soft brushed inside. They feature a tapered leg with a zipper bottom and a "non-slip" elastic waist with a drawcord. There are side pockets as well as an inset back pocket with a zipper.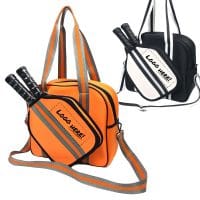 Zippered Neoprene Pickleball Paddle Tote Bag
The pickleball tote bag is made of neoprene , light and comfortable/dustproof/anti-scratch/waterproof, which can long-term use without deformation. The material is elastic to reduce the damage to the product caused by the impact and protect the racket from wear and tear.Large Capacity,Exterior pocket,come with a removeable and adjustable long strap, perfect as a handbag or crossbody bag. Can be used at many outdoor activities, as a pickleball paddles bag or travel tote.
Tech & Pickleball Sling Pack
This sling pack / backpack hybrid blends the best features of both. The rectangular shape gives it more room than the traditional sling pack while the single strap provides the convenience of the cross-body fit. The wide, thick and adjustable padded strap ensures comfort. A zippered outside pocket and earbud porthole rounds out this fully featured pack ! This is also a great bag for pickle ball!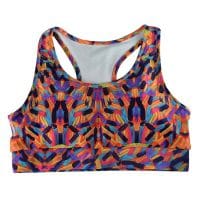 Sports Bra
This moisture-wicking sports bra allows for support while you live an active life. Made with durable polyester for a comfortable fit. Full sublimation options allow for a customized piece at your next sporting event.
Click here for our full presentation 
Don't see something you're looking for? We have everything you could possibly dream up for pickleball. Click the button below to let us know what you're looking for and we'll do our best to find it for you!