Nostalgia in Marketing: How Retro Style Gifts Can Benefit Your Business
---
By Dean Schwartz (SWAG Master): While others may be using traditional promotional products, your company can make a bold statement by offering something different and unexpected – retro gifts.
One of the primary reasons why retro-style gifts are beneficial for your company is the emotional connection they create with your target audience. Nostalgia is a powerful emotion that can evoke positive memories and emotions. By offering gifts that remind people of yesteryear, you tap into these emotions and establish a deeper connection with your customers and employees. This emotional bond can result in increased brand loyalty and positive brand associations.
They're also highly versatile, allowing you to choose from a wide range of products and themes. From apparel and accessories to stationery and home decor, there are numerous options to suit your company's branding and target audience.
Another thing we know these gifts offer? Longevity. Unlike trendy or disposable items, retro gifts often hold sentimental value, ensuring that your brand remains relevant and remembered for years to come.
Whether you're targeting millennials who appreciate the retro trend or older generations seeking a connection, these gifts can effectively cater to diverse audiences.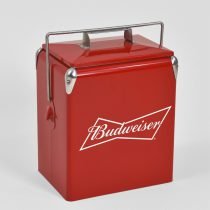 17L Vintage Cooler
17L Vintage Cooler is built with hi-gloss industrial metal construction, aluminum accents, built-in bottle opener and can hold up to 16 12oz cans.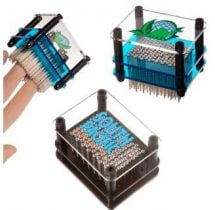 Mini Metal Pin Point Toy
Create 3D impressions and artistic shapes and sculptures with metal pins. Small enough for desk drawers. Inspire creativity in the workplace. Shake lightly to start over. WARNING: Not a child's toy. Overseas production offered for larger quantities.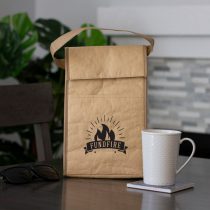 Kraft Paper Retro Luncher
"Brown bag it" in style with this lunch bag. The bag is made with 50% recycled kraft paper laminated onto non-woven polypropylene with a silver foam insulated main compartment. It has a hook and loop fastener for the main compartment and a front slash pocket and a handy 17″ carry handle. The inside of the bag easily wipes clean with a damp cloth.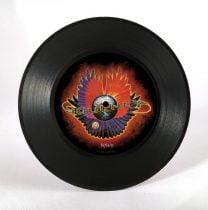 2-Sided Mini Record Coasters
Coasters that resemble miniature vinyl records with grooves, and your custom printed miniature record labels! These coasters have the look and feel of real vinyl records, complete with tiny grooves! Featuring full-color custom 2.5 waterproof vinyl labels on both sides – feature two unique record label designs! Base made from ABS plastic. Coasters measure 4.125″ in diameter, with 2.5″ full color label in the center of each side. Ask us about our many packaging options to create coaster sets!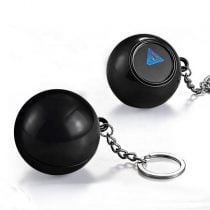 Magic 8 Ball Keychain
Magic 8 Ball Retro has all the answers to all your deepest questions. Ask your Magic 8 Ball a question before you make decisions. Put the window down and shake the ball for some seconds, then turn over and look in the window for answer. 20 different answers included in the floating icosahedrons inside of the ball. This Magic 8 Ball with keychain, made from ABS.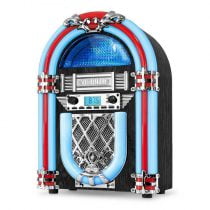 Victrola Nostalgic Wood Countertop Jukebox with Built-in Bluetooth
Victrola's desktop jukebox brings the classic '50's vibe right to your countertop. Featuring five bright color changing LED tubes, FM Radio, 3.5mm Aux-in, and Bluetooth capability. At just 15″ tall, the desktop jukebox allows listeners to get that old time diner style wherever they want!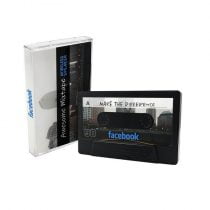 Awesome Mixtape
Hear your mix straight from the tape with the wireless Awesome Mixtape speaker. Get big and clear sounds with built-in speakers that are great for work-outs or relaxing. The fun retro cassette fits easily in your pocket when you are on the go. Customize the "A-side" label with a full-color design that will show off your brand with style points.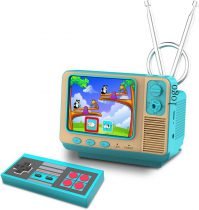 Mini Handheld Game Console 3″ with 308 Games
The handheld console contains 308 popular games: arcade retro, jigsaw, racing, adventure, and more. It is suitable for adults and children. A console full of retro memories, the home video console comes with a 2.4G gamepad, just buy an extra controller if you want 2 player modes, and the 3-inch LCD TFT screen can be connected to the TV via AV output. Built-in rechargeable lithium battery 14500mAh, provides a USB cable for easy charging. Play, have fun, anytime, anywhere.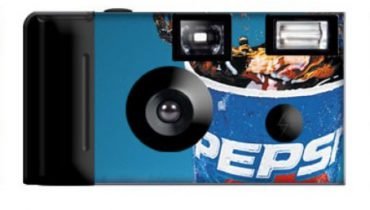 Custom Disposable Cameras
Custom disposable cameras have the highest perceived promotional giveaway value because everyone loves taking pictures, and when they use your custom cameras they're taking your logo and message to eye level . . . 24 times.
Camera Information:  High-quality, high-performance disposable cameras with 27 exposures, KODAK 400 speed 35mm color film and built-in flash.  Artwork is printed on heavyweight glossy stock, for the highest quality and most professional appearance.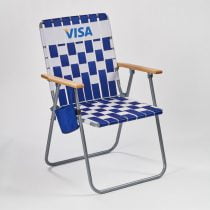 Retro Webbing Chair
From backyard barbecues to sporting events, this Retro Webbing Chair is perfect for the die-hard fan and entertainer alike. The Retro Webbing Chair promotes comfort, style, and portability above all with a lightweight powder-coated steel frame, solid wood arms, cup holder, and fully customizable webbing to rep your favorite sponsors. 
These gifts not only create an emotional connection with your audience but also help you stand out from the competition, enhance your brand image, and foster customer loyalty. By tapping into nostalgia, you can create a unique and memorable marketing strategy that resonates with a broad audience. Embrace the power of retro style gifts and watch your company's success soar. Click below to get started.