Create Reusable Bags That Will Add To Your SWAG
---
By Dean Schwartz (SWAG Master): Reusable bags are all the rage right now. We're all (hopefully) a little more conscious of our waste, careful in our environment, and doing our best to reuse, reduce, and recycle – and reusable bags are the easiest way to make an impact! 
As opposed to the addition of paper straws at your favorite coffee shop, reusable bags are actually an improvement from the weaker plastic option and it helps the environment. They're handy, sturdy, and last much longer than plastic or paper bags – and when you order through SOBO, we'll make sure they look good too.
In addition to the traditional canvas and cotton totes, we have more stylish options that can meet the needs of fashion-forward brands. Keep scrolling for a few of our favorites or click the button below to view the full presentation.
Bio-Liiv Produce Mesh Tote
This amazing 3-n-1 tote allows you to transport, wash & then hang dry your fresh produce, all without removing them from the bag. At checkout time, veggies can stay in the bag while being scanned though the polyester mesh. When you get home you simply pour fresh water over the entire bag, & then hang to dry using the heavy-duty strap.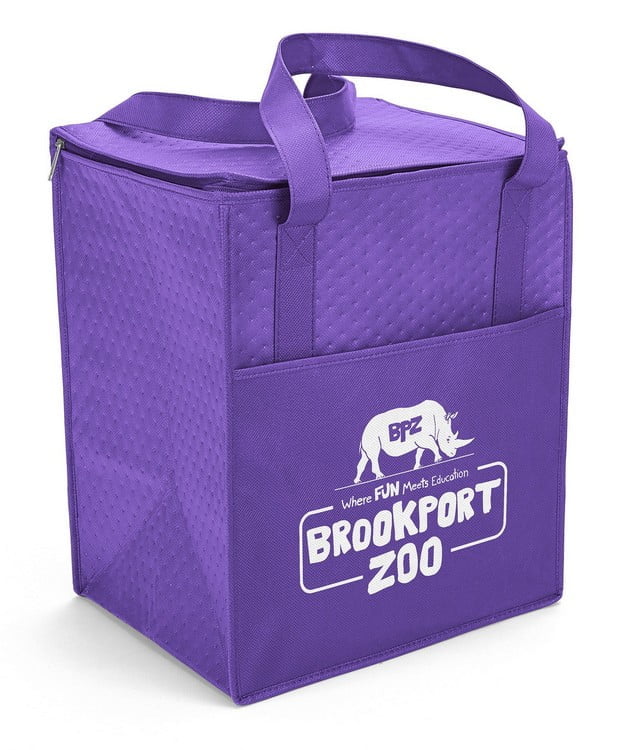 Therm-O Super Tote™ Bag
The Therm-O Tote™ collection keeps items hot or cold. The insulated Therm-O Tote™ feature durable 238 combined GSM premium non-woven polypropylene exterior, thermal foil interior, dual-reinforced handles, and plastic bottom insert. The Therm-O Super Tote™ also has a front pocket. Additional imprint area- back: 5″Wx10″H.  13″ W x 10″ D x 15″ H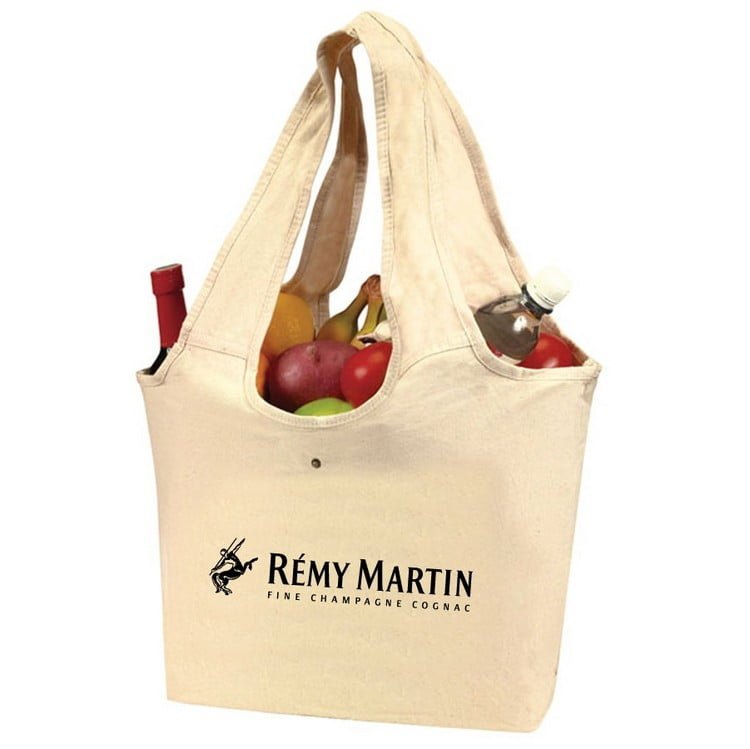 100% Cotton Roll Up Tote Bag
100% Cotton Roll Up Tote Bag. Roll-up to pocket size w/ snap closure for easy storage & portability. Large main compartment w/ snap closure * Unique design, practical for daily use. Note: Product will ship un-folded.  20″ W x 14″ H x 3.5″ D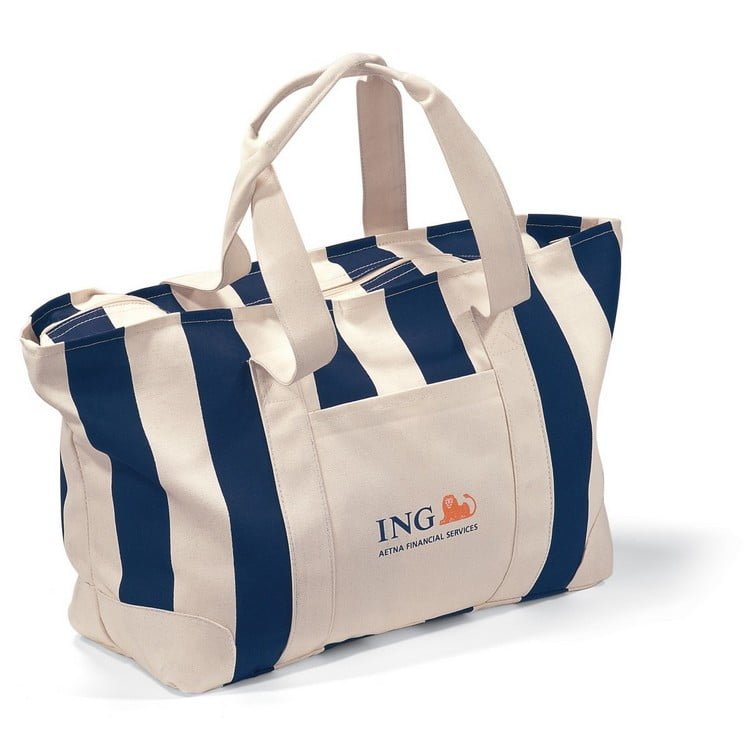 Large Striped Canvas Tote
Clients will be impressed with the Large Striped Canvas Tote as your next giveaway item! This 25L x 13H x 7W tote bag is made out of 12 oz. cotton and is equipped with 28 shoulder straps. The classic yet functional striped canvas tote also features a zippered gusset top and open front pocket. If you want to make this promotional product a real hit, imprint a company name or logo for brand awareness!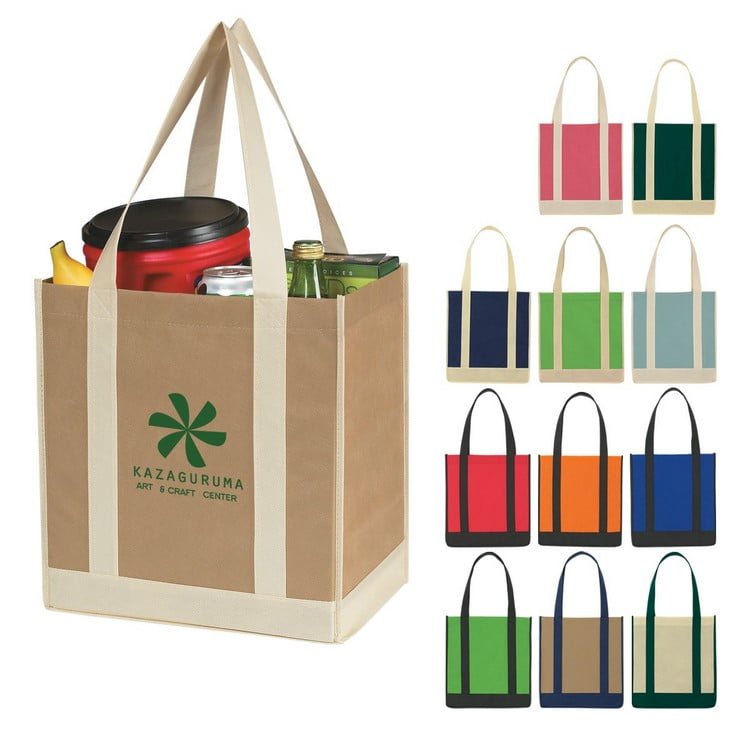 Non-Woven Two-Tone Shopper Tote Bag
Made Of 80 Gram Non-Woven, Coated Water-Resistant Polypropylene. Great For Grocery Stores, Markets, Book Stores, Etc. 8″ Gusset With Matching Covered Bottom Insert. Reusable. Recyclable. 21″ Handles. Spot Clean/Air Dry.  12″ W x 13″ H x 8″ D
Don't get lost in a sea of reusable bag options. Reach out to SOBO and allow us to find the perfect selection for your brand's needs. Click below to get started or email info@soboconcepts.com for more information on our #SWAGwithStyle!