SOBO's Top 10 Most Memorable Water Bottle Options
---
By Dean Schwartz (SWAG Master): When most people think about SWAG they immediately think of water bottles. And it makes sense! Water bottles are needed by everybody, they're lightweight, and easy to transport so you see them everywhere – at gyms, parks, events – all furthering brand exposure and awareness. People in our office use their water bottles so much that they might as well be labeled our  "adult blankets".
Since water bottles continue to be listed among the most popular and effective promotional products in America, most businesses will notice this fact at the top of a simple Google search, slap a logo on a generic bottle, and call it a day. But you're wasting money if you're still doing this in 2023. 
The key to branding water bottles now is to make sure they're memorable and, above all else, useful. Most people have seen and used countless reusable water bottles by now, so they're all essentially water bottle critics. The right spout, ergonomic handle, or memorable feature can make all of the difference between being another bottle at the bottom of a trash heap and a prized gift that rarely leaves the recipient's sight.
At SOBO, we've tested more water bottles than you can imagine and we know what will be effective. Our SWAG Experts were sick of seeing good brands waste money on bad bottles, so we did what we do best. Scroll below for a list of our top 10 favorite water bottles for 2023.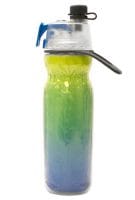 O2Cool Mist n Sip Reusable Insulated Sports Misting Bottle with Built-in-Mister
O2COOL Mist N Sip is the perfect drinking bottle for your bike, sporting or outdoor activity. This product is flexible, easy to squeeze and provides you with a high flow rate of water and a fine mist to cool you down. O2cool's patented Mist 'N Sip products provide a unique combination all in one – misting and drinking. The mist feature helps to cool you down on the outside while you stay hydrated on the inside. We offer a wide selection of different drinking and bottle options to quench your fit.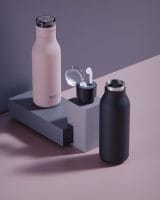 17 Oz. ASOBU® H2 AUDIO Bottle
A musical, hydrating companion, the ASOBU® H2 Audio Bottle lets you enjoy your music along with your water or coffee wherever you are! We took one of our most popular, stainless steel, double wall vacuum insulated bottles, and combined it with a high quality set of two rechargeable wireless ear buds and rechargeable portal. Now you can get your insulated travel thermos to keep your favorite beverages hot or cold for hours.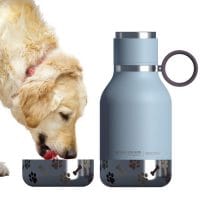 33 Oz. Asobu® Dog Bowl Bottle
The Asobu® Dog bowl water bottle is made of 100% BPA free, double wall vacuum insulated, copper lines stainless steel. The easy grip handle makes it convenient to carry even on long walks with your dog. It is equipped with a detachable stainless steel and plastic bowl which discreetly twists off the base of the bottle, when it is time to re-hydrate your dog. The anti-slip base makes it very easy for your pets to drink from it, and the large capacity ensures your dog is sufficiently hydrated.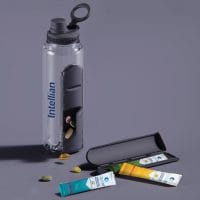 Asobu Electrolyte
Electrolytes help regulate nerve function, improve hydration, and replenish fluids lost through sweat — and our Electrolyte Bottle is perfect for storing your electrolyte powder packets or supplements with two built-in, removable storage compartments. Made of durable durable Tritan, this 40oz water bottle features an easy-to-carry handle and a leak-proof drinking spout.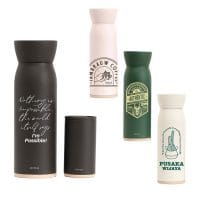 Hitch® 18 oz. Bottle with 12 oz. Cup
The Hitch® Bottle & Cup is a full size, dishwasher safe water bottle w/a removable, barista approved cup hidden inside. With a bottle you'll love and a cup that's always with you, carry it better. This carry-it-all one-hand wonder w/lock-in technology replaces your old reusable bottle & cup w/one solution to carry your water & Coffee Brown together. For each Hitch® Bottle & Cup sold, Hitch® plants 1 tree and removes 1kg of ocean plastic.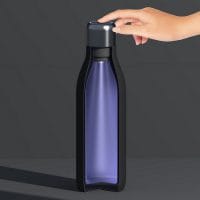 17 Oz. Asobu® UV Light Hydro Bottle
You simply press the button on the lid and the UV light will purify your water in less than 15 mins. Interior remains free from contamination. UV light and battery are incorporated in the lid, and USB battery can have a charged life up to two weeks. Stainless steel, double walled, vacuum insulated bottle that you can fill and drink purified water any-where. Great for camping, travel and outdoor use. Hot up to 12hrs. and cold up to 24 hrs.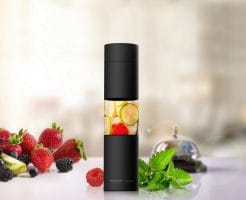 16 Oz. Asobu® Flavor U See Stainless Steel Bottle
The modern metallic styling gives it a unique and upbeat urban chic look. It is the ideal fashion accessory for almost any occasion. This 16 ounce/500 ml double wall insulated bottle will stay cold for up to 12 hours. The clear Tritan™ see through center section suspends the fruit, mint or other contents in your chilled water between two filters preventing any bulk pulp from entering the drinking section. This healthy lifestyle product will encourage everyone to drink more water!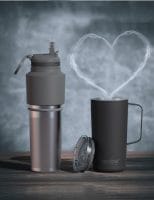 20 Oz. ASOBU® Bottle Twin Pack
Simplify life with the Twin Pack. A unique travel combination for hot and cold beverages. Enjoy fresh water from the insulated stainless steel bottle, while sipping your favorite hot beverage from the mug. The bottle slides neatly into the mug for easy transport. Designed for the office, school, and outdoors. A one-piece item with a dual purpose, the Twin Pack adapts to any situation.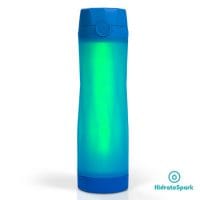 HidrateSpark® 3 Smart Bottle
The smart water bottle that tracks your water intake and lights up to remind you to drink through the FREE Hidrate App powered by Bluetooth. Stay healthy and hydrated with HidrateSpark 3!Syncs with your smartphone using the FREE Hidrate appThe soft grip body makes it easy to keep your HidrateSpark® smart water bottle in hand and minimizes condensation while on the goChoose from three glow modes for extra motivation every dayThe body and sensor stick are easily cleaned; wash by handBPA free, and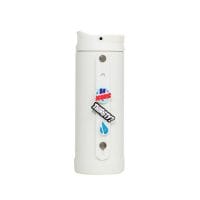 Elemental 14oz. Iconic Charm Bottle w/ Drinking Spout and Straw
Enjoy your favorite beverage with the Elemental 14oz. Iconic Charm Bottle with Drinking Spout and Straw. This stylish bottle is made of double-wall insulation plus added copper lining that keeps your beverages cold for up to 24 hours or hot for up to 12 hours. It also comes with a matching charm so you can show off your style. Whether you're looking for a new addition to your desk or just want a stylish way to take your drinks with you.
Say goodbye to generic water bottles! Uncover the secrets to turning your promotional gifts into cherished treasures and your own version of "adult blankets". Learn how to choose the right water bottles for your brand's success by clicking below to get started.