Case Study: Making A More Memorable Valentines for Citibank Employees
---
By Dean Schwartz (SWAG Master): If you know anything about SOBO, then you know we love creating unique marketing solutions for our clients. So when Citibank approached us about helping with their Valentines Day employee promotion, we were ready with ideas and prepared to execute.
The Challenge:
Send all Citibank Jacksonville employees a Valentine's Day card with something sweet inside. 

All employees needed to opt in to receive the gift and provide their home addresses where they wanted it sent (they were still working from home due to the pandemic).

Initially they asked for chocolate but due to the fact that almost all the employees were located in Florida, we recommended finding something that wouldn't melt.

They needed SOBO to take care of everything from collecting employee information to drop shipping to over 1000 individual addresses.
The Solution:
SOBO created a landing page with a back-end database to collect not only the shipping information but their employee ID number and a check-box opting them in to receive the gift.

For the candy, we designed a custom pouch that contained multi-color heart candy with words on them, including:

JAX

(for Jacksonville),

#Citi

,

Thank You

,

You Rock

&

Gratitude

Accompanying the card was a custom-designed card, letting Citi employees know that they the "Heart of Our Company."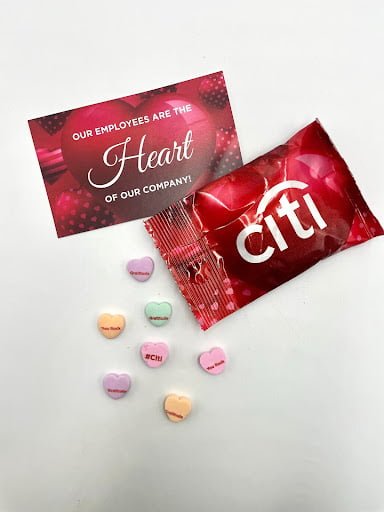 The Results:
All employees received their sweet treats on or a day before Valentine's Day

Some employees posted images on social media (exact number was not supplied)

Citi had never been able to send employees gifts at home because they weren't able to find one company that could seamlessly create both the data collection landing page as well as design and fulfill the products.

Our Citi clients were amazing to work with and we've shown them just one more possibility on how they can engage their employees in a remote-working environment.
We always love working with companies that are looking for creative engagements with their employees. Does your company need to spread the love? Email info@SOBOConcepts.com or enter your email below to subscribe to our newsletter.