The Best Eco-Friendly SWAG Options
---
By Dean Schwartz (SWAG Master): The trends are clear: eco-friendly SWAG is here to stay – it's much more than just Earth Day. If your company has yet to invest in custom-branded "green" merchandise yet, then you're missing out on an effective piece of marketing in today's world.
Of course, just because something is eco-friendly doesn't mean that it's lower quality. Many people might immediately think of the awful paper straws served at their local coffee shop, but SOBO has searched high and low for straws that WON'T fall apart in your drink but also WON'T exist as waste on this planet for thousands of years. Call it a win, win.
In addition to more traditional "green" SWAG, we've also identified the best eco-friendly tech products, as well as fire apparel made from recycled material such as hats, sweatpants, or backpacks – plus much more. Check out some of our favorite eco-friendly SWAG below or click the button to view our full presentation.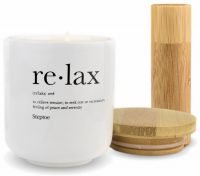 Soy Wax Candle With Bee Bella Organic Lip Balm
This all natural candle is made from soy wax, which burns cleaner and lasts longer than typical paraffin wax candles. The bamboo lid can be engraved with your company's logo! Available scents include: Vanilla Bean and Eucalyptus. Candle container stands 2-7/8″ x 2-1/2″ diameter with 3 oz of wax. Eco friendly lip balms choices: Lavender Vanilla, Peppermint, Cherry, and Pomegranate & Mango.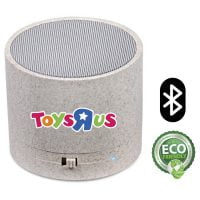 Eco-Friendly Compact Bluetooth Speaker
This eco-friendly compact Bluetooth speaker is made from wheat straw making it 100% biodegradable. With amazing sound and bass, this stylish and compact speaker is a great addition to any home office or perfect to play tunes while studying. You can use it to make and receive hands free calls. Includes a two-in-one cable which serves as both line-in cable and mini USB charging cable.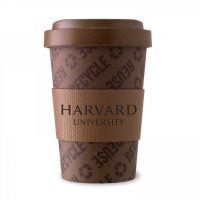 The Grind 470 Ml / 16 Oz Eco Cup
The 470 ml / 16 oz The Grind is a single wall eco-friendly cup made from 50% coffee grounds, 15% cornstarch, and 35% melamine material. It features a light brown color with a textured coffee ground finish and a RECYCLE RE-USE all over print. Included is a PU sleeve composed of 58% recycled material. The body is paired with a screw-on threaded lid with a keyhole drinking spout. The wide mouth design makes it ice cube friendly and easy to clean.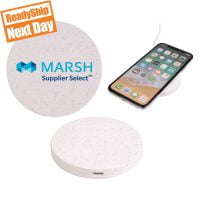 Qi Disc Wheat Straw Wireless Charger
Looking for Eco-Friendly Qi technology with a budget-friendly price tag? The Qi Disc Wheat Straw Wireless Charger is the best solution for those looking for an Eco-Friendly giveaway item at a low price-point. The charging pad is made of wheat straw, an eco-friendly byproduct of wheat production. A small indicator light turns blue when the device is in use. Only compatible with Qi-enabled devices.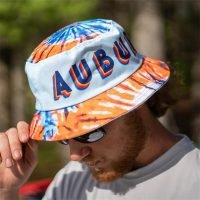 Reversible Bucket Hat Full Color – RPET Recycled Material
Step up your style and be ready for any adventure in this trendy bucket hat. Made from breathable recycle material, hats provide you with comfort and durability so you can enjoy a wild safari or keep your head and eyes safe from the sun at the lake. Hats can include an adjustable string with toggle for a secure fit while hiking, canoeing or playing in a sand volleyball game.
Looking for more eco-friendly apparel? Or perhaps you want to see your options for eco-friendly tech that won't break the bank? We'll find it for you! Click the button below to reach out and let us know. Or click here for a more up-to-date presentation of sustainable SWAG.