Engaging Men with Targeted Promotional Products
---
By Dean Schwartz (SWAG Master): You don't have to wait for Father's Day to celebrate the important men in your life. In fact, surprising them with cool stuff throughout the year can be even more special, and we have just the SWAG you need.
By creating promotional products specifically for men, businesses can effectively target this demographic and tailor their marketing efforts to really connect with them. This approach helps grab their attention and generate a positive response. Whether it's about golf, cookouts or the great outdoors, we've discussed various ways to reach out to men before. Now, we've created a presentation just for them.
Why? Because when promotional products match the recipient's interests and needs, they become more relevant and personal. This increases their value and the chances that they'll find them useful or appealing. In simple terms, by understanding what men want, businesses can create promotional items that meet their expectations and make a stronger impact. Take a look at some of our favorite options for men below, or click the button for the full presentation.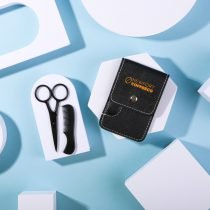 Protip Trimming Set
A perfect representation of high quality & minimalism in a nutshell. The Protip Trimming Set is dedicated to providing high-precision household items for beard & mustache trimming. A solid stainless-steel construction makes these shears easy to use for facial hair. Don't count out the little plastic comb! Use it to groom small details & shape any mustache. Make their trimming easy & add your brand to the faux leather case – perfectly convenient for traveling.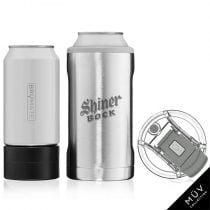 BruMate Hopsulator TRiO, 3-In-1 Can-Cooler
3-IN-1, CAN'T BEAT THAT. Hate warm beer? We do too. That's why we created the Hopsulator TRíO, the most versatile can-cooler in the world. It fits all your favorite 16oz craft cans, comes with a freezable adapter for 12oz cans, and with one quick switch turns into a 16oz pint glass. There's a reason we patented it.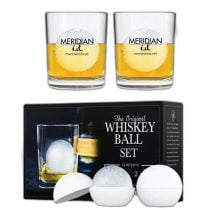 Introducing the Original Whiskey Ball Gift Set, a must-have gift set for whiskey enthusiasts! At the heart of this set lies the iconic Whiskey Ball Molds, meticulously designed to create a perfectly spherical ice ball that melts slowly, preserving the integrity of your whiskey's flavor. Alongside the Whiskey Ball Molds, you will find a set of two elegant, high-quality 9.25 oz. branded, whiskey glasses.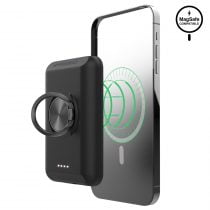 Hypegear 5000mAh Magnetic Wireless Power Bank for iPhone 13 Series
Just snap the Magnetic Wireless Power Bank onto the back of your iPhone 13 or MagSafe case and take hold of the latest high-speed charging technologies. With precise magnetic alignment, the power bank stays locked in place, so there is no need to readjust as you charge. Experience 3X the power of standard wireless and wired chargers in 15W of immediate wireless fast charging or plug into the powerful dual outputs—20W USB-C Power Delivery and 18W Fast Charge USB.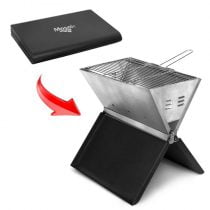 Folding Portable Mini Table Top BBQ Grill
Easily assembled for quick grilling and it's easily stored in the included carrying bag. All metal construction for durability. Cooking grate and charcoal grate included. Vent design allows for better airflow and better cooking. Great for beach parties, backyard get-togethers, tail-gaiting and lunch in the park.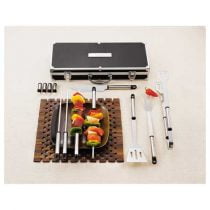 Grill Master Set
This 13-piece BBQ set includes everything needed to be king or queen of the backyard grill – spatula, tongs, knife, fork, four skewers, and four corn holders, all in an aluminum accented case. Handles are plastic with stainless steel grip to prevent heat transfer. For the skewers this allows you to hold the handles and have full control basting food and perfecting the amount of charring you want. Do not expose the handles to direct heat or use in broiler.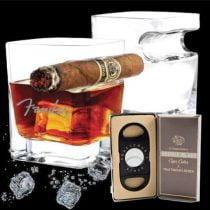 Stogy and Spirits Gift Set
Sip and puff at the same time with the Stogy and Spirits Gift Set. The Corkcicle double old-fashioned, 9 oz. whiskey glass has an ergonomic built-in cigar rest so you can hold your drink and cigar in the same hand. Gift set includes two branded cigar glasses and one cigar cutter. Craftsman's Bench Double Blade, 64 ring gauge cigar cutter offers the cleanest cut possible. Comes in a black gift box with black crinkle paper.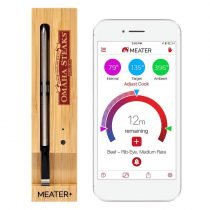 Meater+ 165ft Wireless Smart Meat Thermometer
MEATER is the first truly wireless smart meat thermometer. Along with the MEATER app, it will help you cook the juiciest steak, chicken, turkey, fish or other meats perfectly every time for every occasion. Up to 165ft Wireless Range. Get more freedom from your grill, smoker, or kitchen.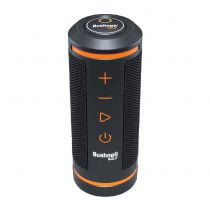 Bushnell Golf Wingman GPS Speaker
The Wingman features outstanding sound quality. Just connect to your music source, and the Bushnell Golf App, for an experience unlike anything else on the course. Simply push the button on the detachable remote to get audible front, center and back distances from 36,000+ courses worldwide through the Wingman. Integrated BITE magnetic technology makes attaching the Wingman right on a cart bar easy. The rechargeable battery of the Wingman is long lasting and provides up to 10 hours (2 rounds of g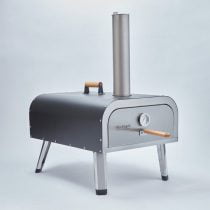 Tuscany Pizza Oven
Cook gourmet, restaurant-style pizza in seconds with our brand new wood-fired Tuscany Pizza Oven with pizza stone. This outdoor oven's sleek, durable stainless steel design is built to last and provides a top notch cooking experience every time. Crafting authentic pies and artisanal flatbreads is easier than ever with the included premium pizza stone. Sure to please any aspiring backyard chef, the Tuscany Pizza Oven is a guaranteed crowd-pleaser at any gathering.
Creating promotional products specifically for men enables targeted marketing, enhances relevance and personalization, strengthens brand perception, and improves the overall return on investment for promotional campaigns. So, what are you waiting for? Click the button below to start designing SWAG for men today.