Creating Successful Sustainable Gift Sets For Your Brand
---
By Dean Schwartz (SWAG Master): In recent years, there has been a growing emphasis on sustainability and environmental consciousness, prompting businesses to consider eco-friendly alternatives in their marketing efforts and a huge rise in sustainable gift sets. We recently wrote about this during our most recent Earth Day – but has your company made the switch yet?
When customers receive an eco-friendly gift set from your company, they feel both a sense of appreciation and connection. They recognize that your brand is not just focused on sales but they're also concerned about making a positive impact on the environment, which encourages loyalty and repeat business as customers are more likely to support companies that share their values.
And that's the key to any great SWAG- sending the right message. Sustainable gift sets send the message that your company is committed to environmental responsibility, which improves your brand image and positions your business as socially conscious and forward-thinking.
Keep scrolling below for a few of our favorites or hit the button to view our full presentation.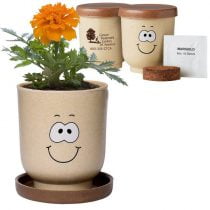 Goofy Group Grow Pot Eco-Planter w/Marigold Seeds
Made from reclaimed renewable materials including bamboo and corn fiber. Each set includes a flower pot/planter with Goofy face on one side, a compressed soil wafer and a marigold seed packet.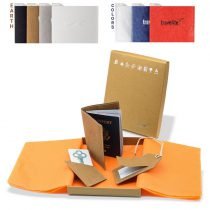 Travelite Gift Set
This Exclusive Travelite travel gift set includes: 1 passport jacket with inner pockets and card holder, 1 luggage tag with a frosty clear window and privacy flap, and 1 vertical card holder for room keys or cards. All nicely packaged with tissue paper in kraft (Natural or Black) gift box with travel icons. 7 colors available with 12 different colors of thread to make your statement. All made in USA.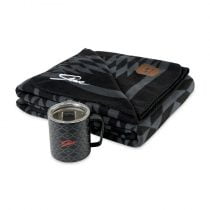 Special Edition MiiR® and Slowtide®  Camp Cup & Blanket Gift Set
Kit includesbr/BGR104 Nomad Must Haves Renew Flip-Top Backpackbr/DW319 Top Notch Naturalbr/ EC3011 Nature Hard Cover Journal Pen Combobr/EC1010 Kane Ballpoint Pen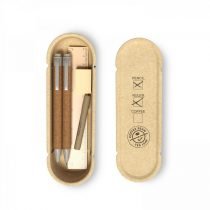 Ecologist 5pc Eco Stationery Kit
Make an eco-friendly statement with the Ecologist 5-piece stationery kit. Contained in a 100% recycled paper box with elastic closure, this kit includes a wheat husk/cork-wrapped mechanical pencil, a wheat husk/cork-wrapped barrel refillable ballpoint pen, a 15cm/6 bamboo ruler, an eraser, and 30 pieces of 0.7mm lead refills in a kraft tube. Refillable ink available in SureWrite blue only, with a low lead refill tip.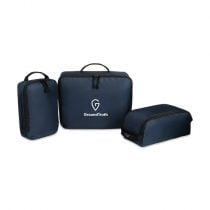 Renew rPET 3 Piece Packing Cube Set
A modern and sustainable update to packing cubes using recycled fabric and webbing made from plastic bottles. Set of three packing cubes to keep you organized while traveling. Top grab handle on each packing cube for easy carrying convenience. Packing cubes nest together for easy storage when not in use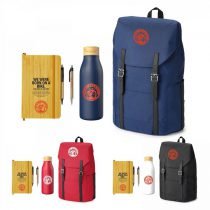 Eco Must- Haves
Kit includesbr/BGR104 Nomad Must Haves Renew Flip-Top Backpackbr/DW319 Top Notch Naturalbr/ EC3011 Nature Hard Cover Journal Pen Combobr/EC1010 Kane Ballpoint Pen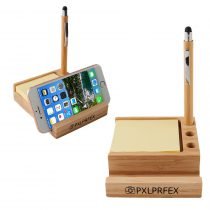 Bamboo Desk Organizer w/Phone Holder
This desk organizer features a bamboo phone stand and 3 pen slots. It includes a 100 sheet yellow 3″ x 3″ sticky note pad & bamboo stylus pen. Bamboo pen is 5 ½" long x ½" diameter. Additional imprint area is 9/16″h x 1 ¼"w on bamboo pen (screen print).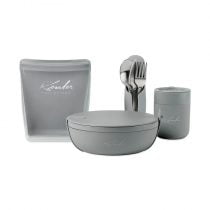 W&P Porter Sustainable Impact Ceramic Bundle
All Porter essentials are infinitely reusable, so you're just a dishwasher cycle away from saying peace to single-use plastics. Includes: A premium ceramic lunch bowl. A compact set of stainless steel utensils means no more plastic utensils. The 36 oz bag is ideal for storing snacks, frozen vegetables, and cut fruit as well as a great bag for cooking, freezing, steaming, preserving, storing, and sous-viding. A durable ceramic mug wrapped in protective matte silicone.  
Sustainability has become a key consideration for consumers and businesses alike. By embracing eco-friendly practices, your company can actively contribute to preserving the planet's resources, reducing waste, and mitigating the harmful effects of pollution. This commitment to sustainability can serve as a powerful differentiator for your brand in today's competitive market. By embracing sustainability, your company can not only enhance its brand image but also contribute to a greener future. Click the button below to get started today.