Fall Into Success: The Power of Promotional Products for Seasonal Events
---
By Dean Schwartz (SWAG Master): With September fast approaching, our staff wanted to catch you up on some of the latest SWAG trends we're seeing heading into the fall.
Fall events often attract specific target demographics, such as football fans, families during Labor Day celebrations, and students during back-to-school events. By tailoring your SWAG to suit the interests and needs of these audiences, your brand can ensure a better brand perception along with a higher level of engagement. In other words, more relevant and cooler SWAG = higher ROI.
Plus, the holidays are coming – and nearly everyone will be receiving gifts from their employees or prospective businesses by then. So stand out from the crowd and begin sending out SWAG related to the fall events and make your gift more memorable! Continue below for some of our favorites or click the link for the full presentation.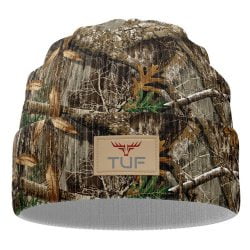 TUFgear™ Realtree® Camouflage Winter Hats Banded Knit Beanie
TUFgear™ Realtree® Camouflage Winter Hats Banded, available on MAX-7, EDGE SLATEBLUE, EDGE FLAMINGO & EDGE camo pattern. This fashionable beanies are made of 100% acrylic and is available in black, dark grey and navy. It is ideal for winter activities, outdoor winter sports, hiking, camping and travel purposes. This classic winter beanie comes in standard adult size and boasts a large imprint area of 4″ W x 2″ H perfect for maximum brand exposure. Give these away in your next promotional event.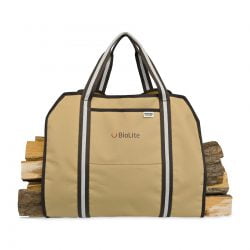 Heritage Supply™ Log Carrier
No more messy, heavy arm loads of wood. Our rugged Heritage Supply log carrier, in handy sling design, makes it easier and neater to load and transport wood from outside to hearth side.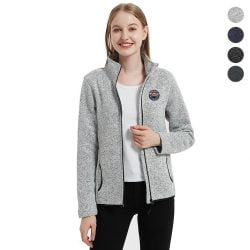 Women's Full-Zip Sweater Fleece Jacket
Made of warm 8.5 OZ 100% polyester fleece that is durable, soft and breathable for casual, business, mountain, camping and travel. This essential outdoor apparel features a stand-up collar, storm flap and a front coil zipper that add an extra measure of comfort and protection from the wind. The full zip heathered fleece jacket has stretch binding at two pockets and the bottom for a contrasting effect. Embroidery/Add your custom branding for a great promotional item.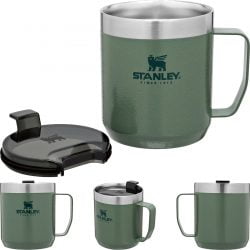 Stanley The Legendary Camp Mug
There's so much to love about this mug. For starters, it holds a generous 12 oz, so there's no skimping necessary. & Stanley's legendary vacuum insulation means your favorite drinks will stay hot (or cold), taking you from coffee break to cocktail hour. Last but not least, there's a secure, press-fit Tritan™ lid for easy sipping around the campfire, job site, or kitchen. Cheers!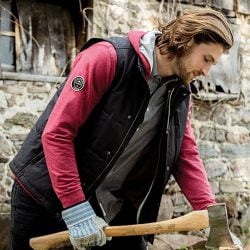 Men's Traillake Roots73 Ins Vest
A classic look with a lot of versatility, the Roots73® Traillake Insulated Vest is ideal for the transitions from fall to winter and winter to spring. Featuring breathable, waterproof construction and horizontal channel quilting, its got stylish details like a distinctive plaid lining, engraved metal snaps and small Roots73® patches on the lower left hip and back right hip.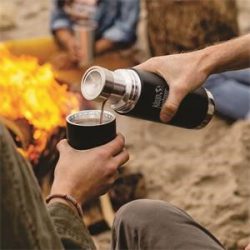 Klean Kanteen® Insulated Tkpro 25 Oz.
The Insulated TKPro 25 Oz. bottle is based on classic stainless steel water bottle, combined with climate Lock double-wall vacuum insulation, keeping drinks hot for 24 hours and iced for 63 hours! Chip-resistant Klean Coat powder coat finish is durable and safe for people and planet.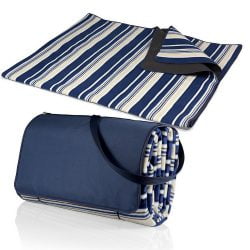 Blanket Tote XL Ex Large Picnic Blanket w/Shoulder Strap and Zipper Pocket
Extra large outdoor picnic blanket with shoulder strap and zippered pocket in the flap. Made of polyester fleece with water-resistant backing. Open: 70 x 80 Folded: 18 x 11 x 5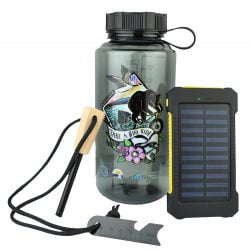 Camp Essentials Kit – Bottle, Fire Starter & Solar Charger
The 32 oz wide mouth Basecamp bottle is made from Tritan BPA-free plastic and contains a wide mouth and screw-on cap. The multi-functional flint and steel fire starter kit assists in starting fires quickly and easily. It contains a steel scraper with attached ruler, serrated end, standard hex wrench, and bottle opener. The solar charger is made of durable ABS, PC, and silicone material. This power bank comes with a compass and carabiner. It is compatible with all smartphones.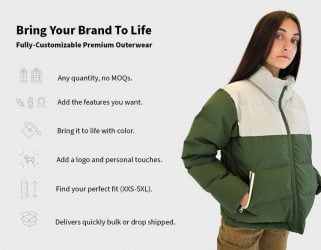 Mega Puff Cropped Jacket
A cropped (women's only) jacket that wears like smart streetwear, and offers premium winter protection with mountain-grade performance. Reliably warm and responsibly sourced. Fully customizable with an array of 19 fabric/zipper colors,no MOQ and quick delivery including shipping via air.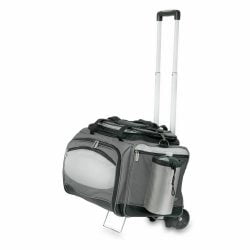 Vulcan 3-in-1 Grill/Cooler/Tote w/Gas Grill & BBQ Tools with Trolley
The ultimate all-in one, insulated tailgating gas grill with removable water-resistant cooler, there BBQ tools, and drawstring bad for grill. 22-can capacity. Cooler made of polyester. Comes with trolley for transportation – pocket on back attaches secure.
Click here for our full Fall presentation. 
Don't fall behind this season (sorry – we couldn't help ourselves). Stay up to date by clicking the button below!